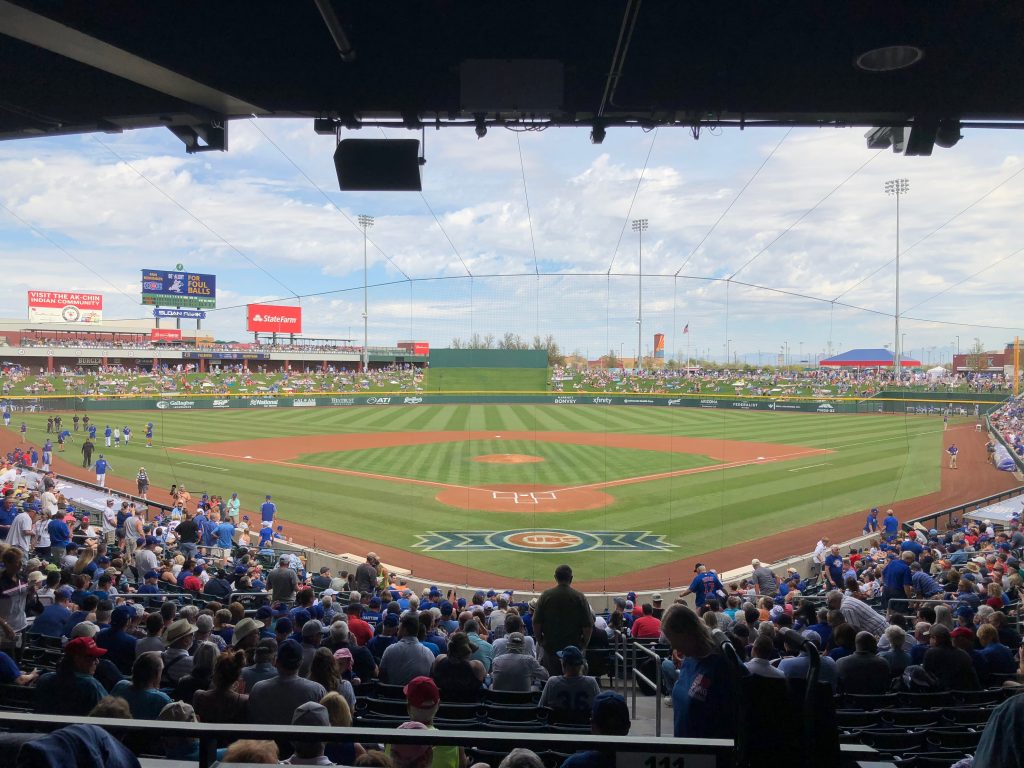 I decided to venture up the road from the A's Spring Training Complex today in Mesa and check-out the Cubs vs. Royals.

WOW.

Normally, as a Scout there's certain designated parking. I pulled into the first lot at the Cubs Spring Training Complex, that looked like a scout/personnel lot, only to be told to go down the street and turn into another lot. I went to the that lot and there I was told it was only for Cubs personnel and instead go back to the lot in between the first one I went to and where I currently was at. At this 3rd lot they told me I had to go back towards the lot I just came from but keeping going and once I arrived there I would drive around the back of the ballpark and come into the media lot. It took me 10 minutes to get to the ballpark today and another 15 minutes and 4 different lots to find a parking spot. I did make it to the game on time though, don't worry.
I also saw Kris Bryant riding in a golf cart behind the stadium. It was 10 minutes before first pitch. That meant KB wasn't playing today.
And what do you know… I was greeted to another pitcher's dual between Cubs lefty starter Jose Quintana (who I had the pleasure of evaluating while he was still with the White Sox in 2016) and Heath Fillmyer the righty starter for KC who I had never seen before. Quintana was up to his usual good self today mixing 4 quality pitches: A Fastball with natural cut from 91-94 MPH and slightly above average command of it; a plus 12-6 curveball in the 76-77 mph range, that he would on occasion get a little on the side of for more of a 3/4 shape; a solid-average change-up from 86-88 mph with decent sink and occasional 2-plane movement but a little too close to his FB velo to be a pitch offering; and occasionally a cutter at 87-88 mph that he really didn't throw much of. He was relieved by a number of the Cubs normal bullpen guys including Pedro Strop and Steve Cishek who were both their normal effective selves before giving way to newcomer and former Oriole Brad Brach who was making his first spring appearance after getting his Free-Agent contract restructured due to some viral infection (I heard mono). His stuff/velo was down across the board (FB 88-89 and SL 79-80) but this is the part of Spring Training that's tough for evaluating – seeing a player for the first time this year who is coming off of a energy sapping viral infection, you can get lured into mis-evaluating, so it's better to just take some notes, not jump to any conclusions and throw an outing like that out the window. Tyler Chatwood closed the last 3 innings for the Cubbies, mostly featuring a heavy FB from 92-95, sitting 93 that sort of jumped at the plate and was getting plenty of swings and misses on. He commanded his FB fairly well and only started throwing off-speed later in his outing – a tight 12-6 CB from 77-79 mph that didn't have the requisite depth due to his shorter stature, but it moved pretty well. He flashed a cutter at 90 and what looked to be a change-up at 83. Tough to grade out because he really only featured 2 pitches in this outing BUT he showed enough stuff and command to at least be considered for a back-of-the-rotation starting gig.
The Royals rolled with some pitchers that look to be competing for the last spots in the bullpen or rotation. Fillmyer threw a 2-seam and 4-seam FB in the 90-94 range, a 12-6 rolly-polly curve with some shape to it at times but mostly moved out of the zone and not very deceptive, and a change-up from 86-88 mph that wasn't very consistent to spots and tended to stay up at times. He really didn't show enough swing and miss offerings or deception or the requisite command for me to consider him to be a lock for a roster spot when camp breaks, however, there was enough stuff and command that he'll at least provide organizational depth if he starts in AAA and improve his off-speed and command overall. One thing that caught my attention was that he pitched from the far 1B side of the rubber, however, he struggled to pitch effectively to the glove side and locate his FB low and away to RHH. With some natural tailing action to it, I would like to see him actually move over towards the 3B side of the rubber, so at least he can offer a tougher angle on RHH. He could even experiment with moving between the different sides of the rubber to utilize better angles depending on if the hitter is a righty or lefty. When someone lacks the command or stuff, utilizing angles can at least become another weapon in their arsenal. Just a thought.
The other Royals pitcher who grabbed my attention was Connor Greene, just 23 years old and already pitching for his 3rd organization, I remember seeing him in the Florida State League (High-A) back in 2015 and 2016 with the Toronto Blue Jays affiliate in Dunedin. He used to feature an upper 90s Fastball and a really hard breaking ball. Today he mostly pitched in the 93-94 range and his Curve/Slider was 77-82. It wasn't until his 2nd inning of work – after he got his 2nd out and cleared the bases that he finally pumped a 95-96 FB and a sharper, better shaped Slider at 85 mph. If he can overcome some mental hurdles and figure out how to get that better stuff out of his hand more consistently – he has a Major League bullpen gig waiting for him. Given his youth and his size, he'll have more chances and so this is a guy to file away and not give up on.

The Cubs starting lineup featured about half of it's regular or consistent role players – Almora, Bote, Rizzo, Baez, Descalso and then a couple of fringe Major League / 4A (somewhere between 3A and Major League level) players. Decalso who is new to the club looked locked in and sprayed the ball around in his AB's and hustled out of the box to turn a routine 1B into a 2B that eventually led to a run. This is the type of aggressiveness that scouts and fans like to see at this point in the Spring. It's also fun to watch Javier Baez, he is just so tooled up – with his elite glove, arm, quickness, bat speed, and contact ability – there's not much shortcomings to his game. He plays without fear and he plays confident. He looks like he's headed for another MVP type caliber season.
The Royals on the other hand brought only a couple of regulars to this away game and those guys being young and in need of AB's like Jorge Soler, Hunter Dozier, and Jorge Bonifacio and new comer Billy Hamilton the speedster formerly of Cincinnati. DH'ing today was Bubba Starling the one-time top prospect and first round pick who has never really broke out as what was expected of him by now. Starling has the size, bat speed and look of a big leaguer but for some reason he just doesn't seem to either recognize pitches well or do damage in hitter counts when he should. His swing looks good but when you really zero-in on it you can see he has a head jerk right at what should be his contact point and he tends to pull off frequently, not covering the outside corner well. He struck out in his first AB on a change-up down and in from Quintana. In his next AB he got behind in the count vs. Left-handed reliever Mike Zagruski but Zagruski made a mistake and left a 92 FB right down the middle that Starling muscled enough into left-field for a base-hit. Had the pitch been off-speed or a FB located away or up in the zone, I'm pretty sure Starling wouldn't be standing on first base. This is a great example where scouting and analytics cross paths. Yes, Starling produced in this situation getting his hit and thus raising his average and on-base percentage, however, is Zagruski a typical big league reliever, and is that pitch a typical big league pitch given the count and scouting report on the batter? Is that 2-strike pitch over the middle of the plate a typical pitch that Starling would see during the regular season in that situation? When you evaluate the swing and the competition jointly, you can see where the statistics don't always give the entire story. You tip your cap to the hitter for producing but you also know that the circumstances would probably produce a different result as well.
The most interesting player for me in the Royals starting lineup was catcher Meibrys Viloria, a 22-year old from Colombia, currently rated #19 on MLB pipeline's 2019 Kansas City Prospect Watch. With the recent news of All-Star Catcher Salvador Perez missing the upcoming season, the Royals will most likely looking at a guy like Viloria who has never played above High-A (except for his 10 game call-up during September roster expansion last year) but may find himself in the starting or back-up catcher conversation with a good Spring. I've liked Viloria in the past when I saw him in Full-Season A-ball with Lexington back in 2017. I thought of him as a back-up catcher with fringy tools across the board but good arm strength behind the dish. He showed off good lateral movements in blocking pitches this afternoon and gunned a runner down at 2B (Albert Almora) as well. He blooped a single into LFC vs. a lefty on lefty match-up his first AB against Quintana and even though he didn't look like a DUDE at the plate, he held his own. This will be an interesting Spring for him because if he does show just the slightest bit of offensive production against the certified Major League pitchers over the next few weeks – he'll definitely have a chance to work his way onto the 25-man when camp breaks.
In the later frames the Royals brought in some of their prospects, which is really the most exciting time for the baseball spy. Most of these guys I have seen in the past and have extensive evaluations on, so I don't mind just seeing what they do with 1 at bat towards the end of the game. Slugging 1B Ryan O'Hearn found himself with 2 AB's in the later frames and after punching out looking in his first AB, he made the most of his last opportunity and laced a hard single into the opposite field. Known for his pull power, this is something you like to see as an evaluator – the ability to take the pitch where it's thrown and still be productive.
The Royals hitter that I really wanted to get a closer look at was CF Brett Phillips a former top prospect with the Brewers org, he was traded to the Royals last summer in the Moustakas trade. Still just 24 years old, yet never really producing at the big league level, he's a guy I wanted to get a better look at. Unfortunately he swang at the first pitch in his only AB – slicing a liner into left-field for an out. I did get it on video though so I could get a better look at the swing, which is something I typically do with all the players I'm attempting to evaluate. Utilizing modern technology can be a great asset for scouting players, and really helpful in instances like this where you might only see one AB and one swing from a guy you're trying to figure out.
Top pitching performer: Jose Quintana (CHC) – 1 hit, no runs, and 2 K's in 3.0 IP
Top hitting performer: Victor Caratini (CHC) – hit an oppo homer to put game out of reach
Most intriguing prospect seen: Nico Hoerner (CHC) – the Cubs 1st round pick out of Stanford last year was super impressive in the Fall League (comps to Ryne Sandberg) but today he only pinch ran and was thrown out stealing and then was standing on deck when the Cubs made their last out in the bottom of the 8th. He was in the DH spot so there was no action in the field for him either.
Biggest takeaway: Why on Earth, in 2019, are we having a Major League game where both teams are wearing the same exact color uniforms? Could we not send a text message in the morning telling the Royals to bring grey (gray?) or black or ANYTHING ELSE? Seriously.
-Boomer