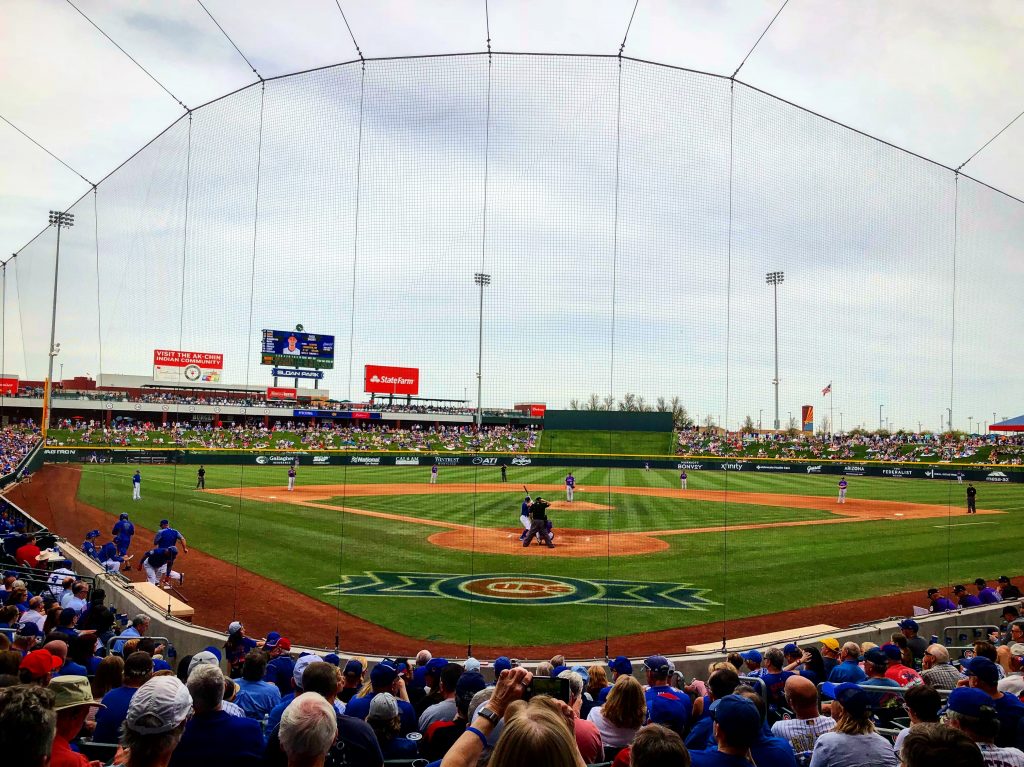 I'm back at the Cubs complex today and got my parking situation figured out without any issues.

The issue today was that my seat was way off to the right side behind home-plate, not a good angle for the radar gun, for video, or for evaluating pitch movement, so I did the oldest scouting trick in the book – look for a nearby empty row in the first inning and hope that I wouldn't have to play musical chairs. Luckily, I found myself in the Rockies family section – good for two reasons: 1) The players' don't typically use all their family allotted tickets and 2) you can hear some good stuff about players from their family and friends (more on that later).
This game was very interesting for a number of reasons. First, both teams were in the playoffs last year, and actually faced off in the wild card game that was won by Colorado on the road by a score of 2-1. Neither team made large splashes this off-season, neither in free-agency or by trade, but they both still feature potent offensive lineups, really good defensive standouts across the diamond – especially up-the-middle, competent starting rotations and solid bullpens, and that gives me no reason to believe that they both won't be in the playoff hunt in September. This game was also interesting because unlike the past week of games I saw, today was NOT a pitcher's duel. Both teams combined for 21 hits and 12 runs – meaning I got to see some action on the bases, in the field, and more AB's for players. Overall, a total of 51 players appeared today! 36 position players and 15 pitchers were used. This makes the task of trying to evaluate so many players very challenging and the reason why I (and the entire scouting community) don't necessarily write full-reports on players during Spring Training. The fact that there are just so many players appearing, and often for just 1 AB or 1 inning of work, the attention and focus required in order to evaluate a player properly, just does not exist in these circumstances. I find it a better use of my time, especially for these posts, to focus on a couple of players in-depth, and paint a broader, general picture of some of the players appearing. Otherwise, my head would be buried in notes and writing everything down and I would miss large parts of the action on the field.
Now with that out of the way – on to the game! Both teams rolled out a starting lineup of mostly regulars and both starters were rotation guys (Jon Lester and Antonio Senzatela). Neither starting pitcher was particularly sharp, but it's SPRING TRAINING, and both had their requisite velocity and movement of pitches, so no real red flags there. After the Rockies relieved Senzatela, their 4 main relievers followed – of particular note RHP Wade Davis threw a 92-94 FB and a very sharp and late moving 89-90 mph, elite Cutter that is deceptive and he can pinpoint. He also featured an above average 84 mph Slider that is consistent and true shape. Just for fun he flashed one 81 mph Curve. Everything plays off each other well and he displays 6/7 grade command of everything. Lefty Mike Dunn came in next and sat 91 with his FB, threw a slider/cutter at 85-86 and a bigger/slower Curve at 73 mph. He's tough on LHH but can get RHH out too. He had good depth to his pitches and his delivery reminds me of Tigers reliever Blaine Hardy who I have seen a lot over the last few years. The last pitcher to appear for the Rockies was RHP Jesus Tinoco, a guy I've seen in Low-A way back in 2015 when he was still with the Toronto Blue Jays organization (before he was part of the Troy Tulowitzki trade). Tinoco is a top Rockies prospect for me – he has great size and a big arm to go along with plus stuff and a mound presence that can be intimidating. He came out throwing his fastball 94-96 with plus movement (arm side run and sinking action, at the same time) that bores in on RHH. From the stretch he was down to 93 but when he got 2-strikes he was able to amp it up to 97 mph. He also threw a power slider at 88-89 mph that had plus movement and late action but the shape wasn't always consistent today. He busted out one 12-6 (picture a clock to understand the movement) Curve towards the end of his outing at 81 mph but it stayed up. He's only 23 years old (will be 24 in April) and he pitched his youth today – overthrowing at times and getting himself into trouble when he could have gotten away with challenging the replacement minor league Cubs lineup in the 9th inning. Once he got into trouble he showed some anger and a tenacity to get after it and finish the job. If Tinoco can harness that focus and command more consistently, he'll be in the Majors contributing out of the pen very soon.
Out of the Cubs 8 pitchers today, I was really intrigued by righty Dillon Maples a 14th round pick back in 2011 who made his Major League debut in 2017 but has only amassed a total of 10.2 innings at the highest level over the past 2 seasons (and carried an E.R.A. over 10 as well). I saw Maples back in 2015 and 2016 when he was still in (and repeating) the Low-A level for the South Bend Cubs. With the stuff he brought today, he won't be pitching for South Bend anytime soon. Maples only faced 4 batters and gave up a really solid hit to Rockies prospect Colton Welker but besides that one mistake he struck out two Rockies with an electric 95-97 FB and a late and big breaking cutter 88-92 mph. His slider had similar shape to the cutter, just a tad lower from 83-87 mph. It's possible that I have misidentified the slider and cutter at the upper 80s velocity – but that's a good thing! If I'm having trouble identifying it, imagine how the batter standing 60 feet and 6 inches away is feeling. Honestly, I had kind of forgotten about Maples as an impact bullpen guy but he's still just 26 years old and if he brings this kind of stuff during the regular season – I can see him definitely helping out the Cubbies pen.
From the Cubs position players a couple of guys really caught my attention. First, starting catcher Wilson Contreras. I have never seen him live before and I kind of followed him around the field for a while. I tend to do this with catchers because 1) it's so hard to find good ones and 2) it is the most important position on the field for me. If you disagree with me, that's fine, but go look at the past 15 years of World Series winners – unless you have a rotation of Cy Young winners and dominant bullpen (i.e. Red Sox 2018), the majority of champs have had a standout defensive catcher and just importantly – a standout leader. Posey, Salvador Perez, Yadi Molina, Pudge Rodriguez, the list goes on. Anyways, Contreras can really play on both sides of the ball. He threw out a baserunner with his cannon arm (I got a 1.9 pop-time on it) and he hit a LASER double to the LF wall driving in 2 runs with some serious exit velocity. Just as importantly you could see him working with Lester and the other pitchers when things weren't going their way. He schmoozed with the umpire, coaches, and fans. He carried himself with confidence and played with enthusiasm. Maybe I'm late to the Contreras bandwagon but I don't like formulating an opinion on players until I get to see them live because there's so many things that baseball telecasts don't show that helps round out our scouting evaluations.
Another guy from the Cubs who caught my attention was late inning replacement at SS, Cristhian Adames (yes, the spelling is correct). I have never seen him before and honestly didn't realize he had 300 Major League AB's (mostly with Colorado in 2016). For the second straight day he came in late and pulverized the ball in his only AB. Yesterday he crushed a 89 FB to right-center for a double. Today he turned around a 94 FB and deposited it over the left-center wall for a homer. Maybe it's a bit of smoke and mirrors, he's hitting FB's and it's late in Spring Training games. OR maybe at 27 years old, he has finally put it together offensively. He made a strong play at SS yesterday and the chatter in the scouting section is that he could always field it. With the Cubs pretty set at SS with Javier Baez and/or Addison Russell, this might be a guy for teams lacking in SS depth to consider (I see you Detroit, Toronto, Seattle, Texas, Miami, New York Mets, Pittsburgh) – oh wait, that's quite a few teams. Adames looks strong and definitely warrants a more concentrated look.
The real Cubs standout today was the guy I mentioned in yesterday's recap, who didn't even get an AB. My top Cubs prospect, Nico Hoerner. I threw a Ryne Sandberg comparison on him yesterday, which prompted my dad to call me this morning and ask me what that was all about (THANKS FOR READING DAD!). Hoerner, last year's 1st Round pick out of Stanford absolutely balled out today as the DH. He had 4 AB's and reached base 4 times. He had a RBI 1B in his first AB that blooped into the OF. In his 2nd AB he hustled down the line (4.00 jailbreak) and beat out a grounder to the left-side for a 1B with 2-strikes on him. In his 3rd AB he smashed a triple to right-center, what normally would have been a double – he ran hard and with plus speed and good angles around the bases he made it to third. By his fourth AB the Rockies just plunked him for good measure. His swing is a bit unorthodox, with his back foot moving and more a natural dip from the right-hand side with a 2-handed finish but he has excellent plate coverage and contact skills. He was not overmatched by any of the Rockies Major League starters or relievers and this guy has the makings of a quick mover through the system. I saw him briefly last year in the Arizona Fall League where he hit well after not playing much after the draft due to an injury. You watch this kid and you just like how he plays the game.
Sitting in the Rockies family section was interesting. First off, they all know what you're doing and you can catch a few of them trying to peak at your notes – hoping to read what you're writing about their son or husband/boyfriend. And you also hear things that can help the evaluation process but you have to be careful as a scout not to let too much of the human element of "caring" cause any bias. Let's say you strike up a conversation with a family member or partner and you like them, it's natural to want their person to do well, it's human nature. However, this is different than amateur scouting, in pro scouting you're not supposed to be building relationships with players or their families – you're strictly evaluating them based on their performance, their tools, and their makeup. The family section can lend some helpfulness to the makeup part, but it can also cloud the judgment of your evaluation if you let that bias start to creep in. For example, today I learned that David Dahl only recently began wearing his pants up. This became an interesting tidbit because he ended up going 3 for 3 with a homer and looked every bit of the DUDE he's supposed to be with his lofty prospect ranking. Now, as a former player who would adjust between high socks and the full pant look depending on my winning streak as a pitcher (or lack thereof) it helps me learn that this player is a bit superstitious and maybe a bit more routine based. So let's say they're not getting everyday AB's with their club but I know this aspect of their makeup, one could surmise that given a better routine or structure, or consistent playing time – it may alleviate the mental anguish that comes from not having success in a part-time role. I'm not saying this is the case with Dahl, but just using this as an example.
The other two young guys I wanted to lock-in on was 2B Ryan McMahon and SS Garrett Hampson. Both are natural at the 2B position but maybe slightly stretched to play SS. Both are 24 years old and only have 200 MLB AB's between them. The biggest different is that they're different types of players with different swings and Hampson is right-Handed hitting and McMahon is left-handed hitting. With Trevor Story ingrained at SS and Arenado at 3B for a long time, this seems to be either a competition for the starting 2B spot or a natural platoon situation. With uber-prospect Brendan Rodgers on his way up the ladder, it behoves one of these guys to grab this opportunity to carve out a starting spot this Spring. Both went 1 for 3 today. McMahon golfed a 2-strike pitch to RF with 2-strikes while Hampson belted a homer to left-center field. McMahon has a smooth looking natural loopy swing (see video below) that projects for some power at Coors Field. Hampson, with a smaller, stockier frame, has a shorter, quick twitch aggressive swing that profiles for a higher average. Interesting Hampson hit the homer and McMahon had the 2-strike single. With only a handful of AB's seen – it's way too early for me to say which guy is better suited to start and it would be easy for me to just throw up my hands and say platoon them because McMahon looked perfectly fine vs. LHP Jon Lester. This is not a bad problem for the Rockies to have.
Speaking of not bad problems for the Rockies to have – 3B prospect Colton Welker came on late in the game and smoked a double to Right-Center off of the aforementioned Dillon Maples (see video below). With the recently extended Nolan Arenado holding down 3B for Colorado (probably for the next 7-8 years) Welker may need to find a new position if he continues to hit. I don't love the swing, it is a huge uppercut and that I don't know how well he'll be able to turn on inside heat with his bigger load BUT so far in his young career he has hit a robust .337 in the minors overall. Sometimes stats simply don't lie. .337 anywhere will get you paid. He's well built and he may end up moving to 1B and becoming a bona-fide slugger. Just 21 years old and yet to reach AA, the Rockies and him have some time – but the question is do you pull him off 3B now because of Arenado or just let him play there until you have to make that decision?
And speaking of well built players. Catcher Tom Murphy crushed a homer over the left-field berm and smoked a double to LF in another AB today. Veteran Chris Ianetta, not known much for his bat, is the projected starter but Murphy can give him a run for his money if he continues to hit like this.
One last point for this very long recap: Speedy 25-year old Raimel Tapia (who I heard from a front office executive call him the Dominican Ichiro), came in late and went to play CF. Although he didn't do much at the plate the thing that stood out was how he handled himself in center. I don't have much history with this player but part of the evaluations that I haven't really discussed is a player's defensive ability. In the video below you can see Tapia's first step (good drop step), efficient route to the ball, and the way he gets under it and doesn't drift catching the ball – with his back to the wall and facing the field. In 2019 the scouting community has statcast data to help us track player movements and route efficiency but one thing the data doesn't tell us or show us is what the player looks like while doing this. Not every field is designed the same, not all weather conditions are created equal, and not all balls off the bat are hit the same way. What I'm trying to say is, even though we have the data available to rate out defenders, there is still A LOT of variables that factor in to a defender's tools and abilities beyond the route efficiency. For example, let's say your team plays 81 home games in a dome stadium, or in windy conditions, or more day games – the data may be skewed without the ability to account for all these different variables. So as a scout, you need to look for the unquantifiable information and in the case of Tapia – it's the amount of comfort and confidence that he displays while he gets to this ball. It passes the eye test because it looks easy. This is what I write in my scouting report about his defense without access to the data that tells us the info about his route and speed.
Top Pitching Performer: RHP Dillon Maples (CHC) – the 95-97 FB and power cutter/slider for 2 K's puts him above the reliable Rockies Closer Wade Davis who seemed to just be "working on his stuff" today.

Top Hitting Performer: LF David Dahl (COL) – 3 for 3 with 2 RBI and 1 run with the HIGH SOCKS while sitting next to his family gives him the edge over some other offensive standouts because HOW he did it (he really hit the ball hard and produced with 2-strikes) using the oppo field well.

Most Intriguing Prospect: DH Nico Hoerner (CHC) – if you didn't know by the recap, when you get on base 4 times as a first full-year player against all Major League pitchers, you have had a day.

Biggest Takeaway: It's noticeable in Spring Training that the coaching staff usually sits outside of the dugout on chairs. I like this. I like this so much I don't understand why they can't do this during the regular season. Like, in Hockey, the coaches stand behind the players and don't sit on the bench with them. Why can't baseball do something like this?
-Boomer