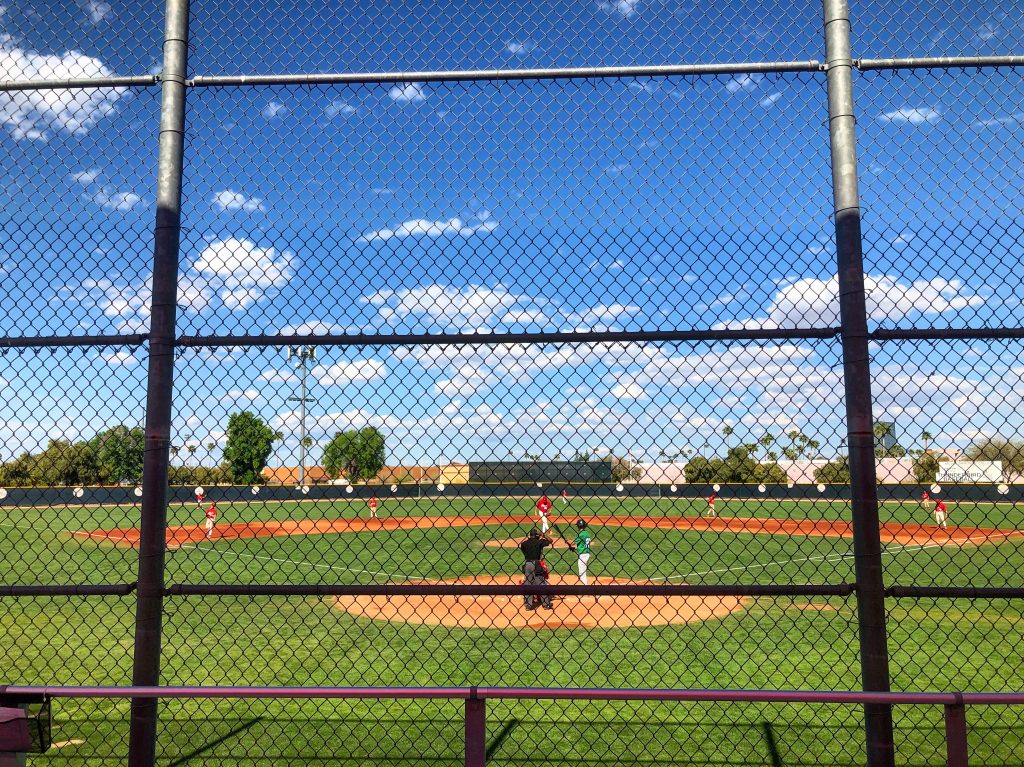 Let's start with the Bonus nugget. On the way to Goodyear for the first time this Spring to catch the big league game between the revamped Reds and slightly revamped Sox, I made a pit stop at Mesa Community College to check out the first two innings of 6'8 Right Handed Starting Pitcher Carter Robinson start vs. Scottsdale Community College. I had been tipped off by the Mesa coaches on Carter's start and I had seen him last Fall when my International Stars prospect team scrimmaged Mesa. He came out throwing 88-90 mph in the first inning and really using his leverage well. At times he would be down in the 83-85 range but I later found out this was his change-up (this is a great sign that the two pitches looked so much like each other). He also showcased a Slider from 79-83 mph that he used both in the zone for a strike and out of the zone for chases. None of the Scottsdale hitters really had much of a chance in the 2 innings I saw. He generated lots of swing and misses with his FB, especially up in the zone and generally showed a solid command of his stuff. I think he's still raw and needs some work on the breaking ball (who doesn't though?) but there's pro potential for him either to be drafted this year or head to a good D1 program next Fall. I left in the 3rd inning to TRY to beat the traffic to Goodyear but he ended up going 7 innings, allowing no walks or runs and yielding just 4 hits with 6 K's on the day. I'll probably be back to check-in on him again next month.
Now, about that traffic. WOW. If I thought driving to Surprise yesterday during rush hour was bad, the almost 2 hour bumper to bumper that eventually led me off the freeway and onto the side-roads was pretty brutal. Don't worry Schu, I made it in time for first pitch.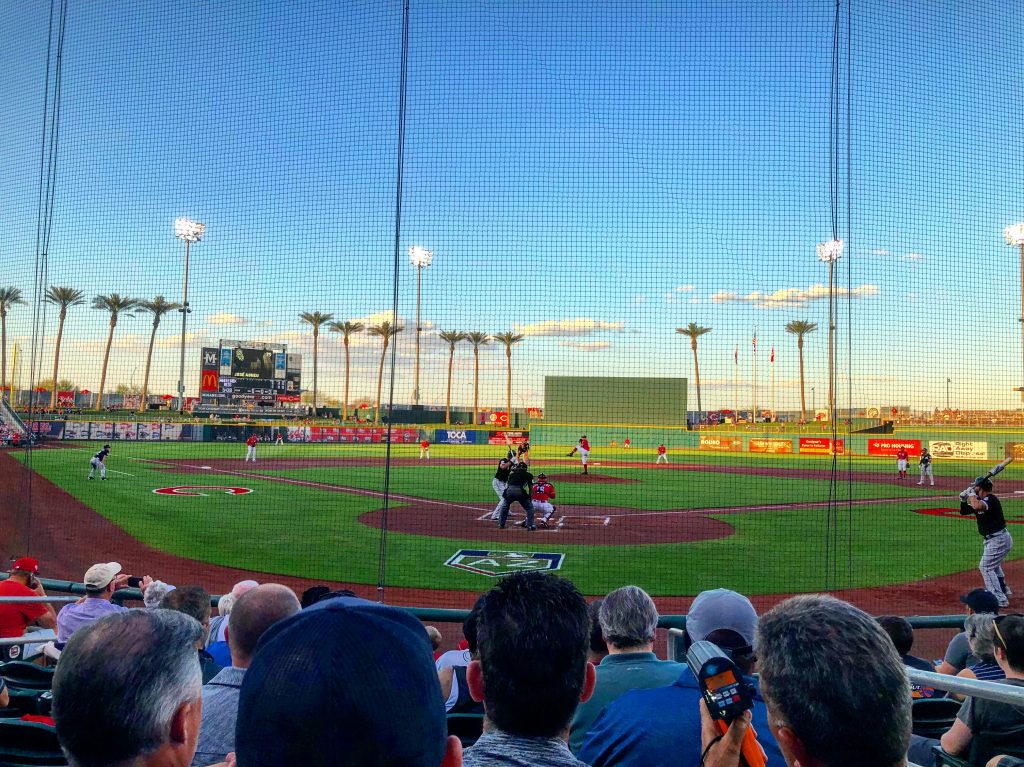 Starting on the bump for the Reds who I was seeing for the first time this Spring was 24-year old righty Lucas Sims, who has a grand total of 23 games and 73.1 big league innings under his belt over the past two years between Atlanta and Cincy. He showed a 93-94 fastball today with some run and some sink but was missing up in the zone quite a bit. I really liked his tight 3/4 breaking curveball from 80-82 mph that had late movement at times. He used it as both a "get-me-over" offering for a strike and to finish batters as well. It mostly was ML average for me but some of them flashed plus. Overall he showed a fringy command of it. Sims bowed out in the 3rd inning after giving up a oppo homer to Jose Abreu of the Sox and finished the day with 3 hits, 2 walks and 2 earned runs allowed. He was overthrowing a bit for me and might just be a case of him trying to impress too much. Either way he probably factors into the Reds bullpen or as a spot-starter at some point this year if he doesn't break camp with the club.
The next pitcher in for the Reds was former Braves top pitching prospect Matt Wisler, who I had seen back in 2015 or 2016 with the Gwinnett Braves (AAA). He comes at batters with a different look than I remember – with an almost over-the-top slot. His delivery was balanced, yet powerful. His fastball was 91-93 with arm side run and was effective due to his natural plus plane and how he sequenced it with his 12-6 drop curve that was tight and had a nice late break. He hung it to a LHH but was also freezing RHH with it in the zone with a velo from 79-81 mph and he showed a bit better command of it than Sims did of his. Wisler went 1.1 innings without allowing a hit or a walk or a run and struck out one batter as well – lowering his Spring ERA to 1.93. The 26-year old one-time starter was used primarily out of the pen last year pitching for the Braves and then finishing the season with the Reds. He looks like a long relief/bullpen piece for me right now.
The Reds finished the game with 3 young guns who I had all seen previously in the minors in years past.
First in was Sal Romano, a broad, well built flame thrower who up until this year was always a Starter but now being tried out in a bullpen role. I saw him at High-A Daytona Beach back in 2015 and gave him a big league grade as a solid reliever due to the max effort delivery and 2-pitch mix. That's what he's turning into with a 95-96 FB and a 87 mph SL that's longer and bigger than it is sharp and late but still throws with same arm speed as his FB giving him some deception on it. He got 2 punch outs in his only inning of work, coming at hitters very aggressive and with a high 3/4 slot he has natural plus plane. The delivery reminds a bit of Michael Fulmer from the Tigers, but it also gives me some concern as he doesn't land particularly stable on his stride leg and there's some recoil action in the arm. The stuff plays though and he can be a solid bullpen piece this year for sure.

Robert Stephenson, the former first round pick by the Reds in 2011 is now 26 years old and has spent 3 seasons up and down from AAA to the Majors, including 2016 when I first saw him as a starter with really good stuff early in April at Louisville. He only pitched 1 inning tonight out of the pen but he broke two bats on a heavy fastball that was also 95-96 mph and a true slider at 87-88 mph that breaks longer and gradual similar to Romano. His delivery is fairly clean and he gets good extension on the front-side but doesn't have the same plus plane as Romano with a slightly lower slot and more of a drop and drive delivery. The stuff will definitely play in the bullpen though and he looks like another solid contributor in that role this year.

The last Reds pitcher for the evening was big lefty Cody Reed who I had also seen at AAA in 2016 and spent last year contributing to the Reds as a starter and reliever. He also looked like a solid bullpen piece with his 1 inning of work featuring a plus FB and a tight 3/4 breaking ball.
The Sox started Reynaldo Lopez who I wrote about 2 weeks ago here: https://baseballspy.com/2019/03/04/chicago-white-sox-vs-los-angeles-angels-of-anaheim-glendale-az/
His velo and overall stuff was down a little bit from the previous outing I had seen but he pitched somewhat effectively into the 7th inning looking like the Sox are stretching him out to prepare for the season. He might have just had things on cruise control for a bit, trying not to overdue it in what's probably his final spring training tune-up and with nothing to prove right now, you really can't blame him for that. The Reds hitters generated plenty of hard contact against him tonight but he worked well with new catcher James McCann, sequencing his pitches well and not giving up a run for the first 4 innings.

The last guy in for the Sox was righty Dylan Covey, a former starting pitcher who they Ruled 5 back in the winter of 2017 after a tremendous showing in the Arizona Fall League. I had actually recommended to the Orioles that we take him in the Rule 5 draft that winter and was told by our front-office personnel that we were going to had he made it to us (alas he didn't). I really liked Covey's pitchability, movement and his plus change-up that he complimented well with a fringy curve. I was never really high on slider but I had him pegged as a solid rotation piece at peak with his 4-pitch mix and ability to command. Thus far he has struggled a bit, primarily as a starter across the past two seasons and it looks like he's trying to reinvent himself as a reliever for the Sox now.
The FB velo tonight was a legit 95-96 with solid natural cutting action and he also showed a 2-seam with plus arm side run at times. His delivery looked different than I remember, throwing from an almost over-hand slot and his FB velo I never had above 93 mph in the past. His change-up still flashed plus, and a little quicker in the 87-88 mph range, with the bottom falling out at times but he didn't use quite enough for me, instead really trying to use his 87-91 mph slider/cutter that I don't feel is as conducive to his slot/release as a curveball would be. The cutter, especially at the 90-91 range wouldn't do very much at times, and acted more like a 4 grade FB and it didn't generate any swings and misses, instead batters made some pretty solid contact against it. He was mostly around the zone but seemed to tighten up and tried to pitch around guys too much with the game on the line (that he ended up losing in the 9th). The stuff definitely still works but he will need to realize his FB/CH are his best offerings that he should feature the most and I would like to see him challenge hitters a bit more in the zone with his above average movement.
Reds Position Players:

Yasiel Puig – Always a favorite of mine, it looks like he will finally receive everyday AB's again after moving from the Dodgers this off-season where they used him more as a platoon player the past couple of seasons. Puig was locked in and hit some absolute lasers, just missing a homer earlier in the game and hitting rockets around the field in other AB's. He only recorded 1 base hit on the night but every AB was comfortable for him and he is a guy that I'm pegging for 30-40 homers this year with 81 home games at a hitter friendly ballpark. He is a spark-plug and plays the game with such flair that I can really see it igniting a new-looks Reds team.

Nick Senzel – the Reds top prospect who I first saw make his Low-A debut in 2016 at Dayton has moved from 3B to CF and looked really comfortable and graceful out there this evening. He has a tendency to drift at times but he looks solid overall and he'll project to improve with more time out there because he has the instincts and athleticism for that. More impressive was his ownership at the dish where he went 2 for 5 with 3 runs scored at the top of the Reds lineup. He looked super comfortable at the plate against all the Sox pitchers, displaying great balance in his swing, outstanding eye-hand coordination and plate coverage and plus bat speed to turn on above average velo with ease. I'm so impressed with the way he gets the barrel of the bat into the hitting zone so quick and his ability to take pitches where they are pitched. With 2-strikes he shows a great approach but adjusting and cutting down a bit on his swing with a more contact oriented approach and making him an extremely tough out for pitchers while still maintaining the ability to hit the ball hard around the field. In his 2nd to last AB he was in a 1-2 hole and stayed back long enough on a Curveball – hitting it hard down the LF line for a 2B. He also stole 3B later on. This guy is a baseball player, simply put.
White Sox position players:

Jose Abreu – my former International Director when I first started with the Orioles (who has signed over 70 Major Leaguers in his career), once called Jose Daniel Abreu, the best hitter he's ever seen. The 32-year old Cuban had his first "down" year last year and he missed some time with various ailments. Sitting next to an advance scout for a Major League team we were discussing how to pitch Abreu these days. He's such a strong hitter, with a great eye and plate coverage – he'll punish your mistakes and he'll make you work very hard to get him out. Even with some declining bat speed and reaction time, he can still hurt you. The approach to get Abreu out is to bust him in but if you miss your spot he will hurt you. Tonight, Abreu hit 2 opposite field homers and I honestly don't think he was trying to go there either time. The first homer I think he was just late on a pitch middle-away and it crept over the RF fence. The second homer was a little more right center but I think Abreu was just trying to get a good piece on it. 32 is a tough age to predict for a hitter – especially with some injury history and declining athleticism. The aging curve in baseball differs from player to player, much is based on genetics, and although analytics would like to tell you that based on previous history of and most comprobale players – a certain batter will hit x and y at age 32, we know from SCIENCE that no two people are the same genetically and given the ebbs and flows in the game, you really need to get the trained human eye on a player's movement to see HOW they're swinging, how they're moving, etc. I only had 1 game with Abreu and he's not turning on the ball for me, which is indication that the bat speed is in decline – he is however, adjusting his approach and having success with it. For now, he's definitely still got something there.

Ryan Cordell – I can't remember seeing this guy before today and with just 4 hits in 37 lifetime big league AB's (all coming last year) – I honestly wasn't even aware that he had big league time. He got one AB tonight and lined a single into LF on a 1-2 Slider, showing the ability to keep his hands back. He then promptly stole 2B. That was all the info I got on him but at the ripe age of 26, guys with some bat speed and athleticism (aka "tools") who stick around, they may start to "figure it out." Hitting a baseball (at the Major League level) may be one of the hardest skills in the sporting world and sometimes it takes a lot of time for the mental component that is required (pitch recognition, approach, learning from past AB's, moving on from past AB's) to catch up with the physical component before that begins to deteriorate. I didn't see enough of Cordell, especially against big league caliber pitching to predict anything but I did see enough that I now know his name.
Top Pitching Performance: Wisler & Romano
Top Hitting Performance: Senzel & Abreu
Most Intriguing Prospect: Senzel
Biggest Takeaway: I have to say, for my first time making the trek to Goodyear this is probably the best scout seat/view and the closest action I've had in Spring Training all year. The ballpark is beautiful.