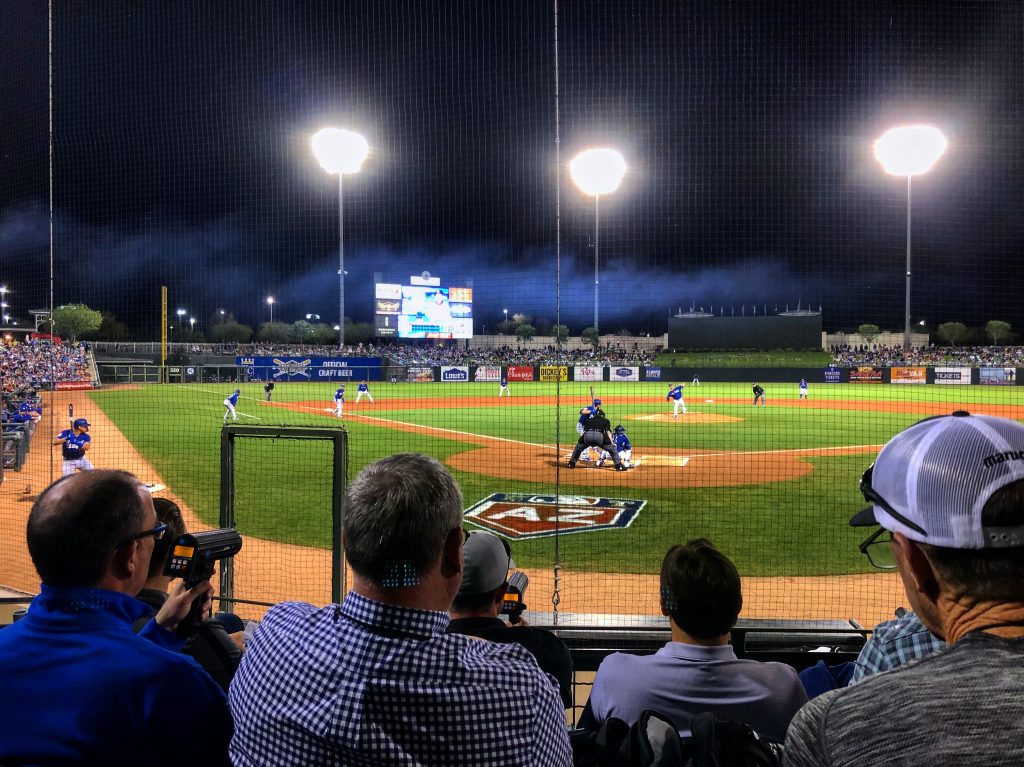 NOTE: Do not try driving across the valley (from Mesa to Surprise) during rush hour. It will take a hour and 45 minutes on a normal 1 hour drive.
Luckily, I allowed plenty of time today. I made it for the Dodgers batting practice actually. The game wasn't starting until 705pm, which felt more like regular season than Spring Training. All of you who know me, know how a 705 start is music to my ears. I've been working in baseball my whole life – which means lunch at 230 before batting practice and dinner at 1030/1100 after the game. Spring Training day games are like everyday being a Sunday during the regular season – up at 10am, rushing out the door by 1130am, not hungry yet, getting really hungry during the middle of the 5th inning. I hate Sundays during the regular season because you have night games for 6 days straight and then Sunday throws your whole schedule completely off. I'm not complaining, #justsayin.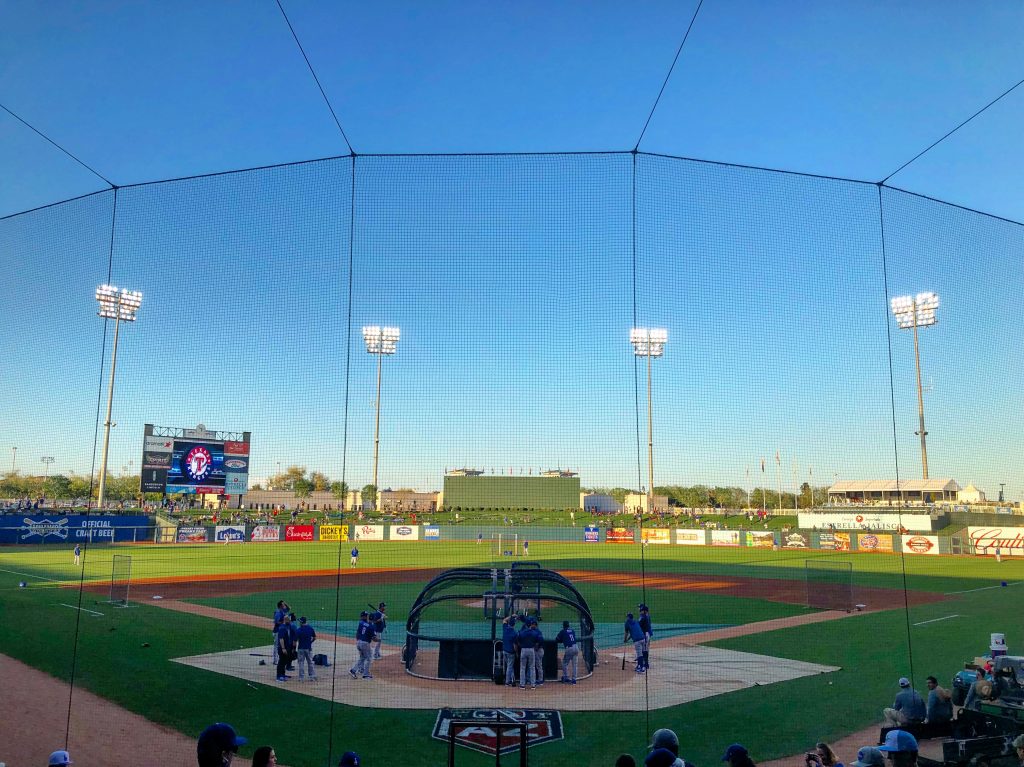 But you didn't click this link to read about my eating schedule, so let's get into the evaluations. Both starters, Ross Stripling for the Dodgers and Mike Minor for the Rangers figure to be steady rotation guys for their respective teams this year. Stripling has bounced a lot between AAA and the bigs the past couple of years but the dude knows how to pitch even with slightly below average FB velo. All his stuff moves and he spots it up real well. His Curve is probably his best pitch, a big 12-6 bender from 78-80 mph. Everything is either fringe to solid average and he has plus command. He pitched into the 5th and was effective. Minor, who is on a pitch limitation coming back still from TJ showed really good velo of his FB, sitting comfortably from 94-95 mph and a solid breaking ball that looked to blend at times in the lower 80s but would go as high as 87 and low as 79. His change-up was very solid with fading action from 86-88 mph. Minor ended up going 3.1 innings with 3 K's, 3 BB's and no runs. He struggled to finish guys at times and his walks weren't wild, he was just missing his spots. Then as we have accustomed to in both Spring Training and in the regular season now, a slew of 10 different relievers joined the parade.
Noteworthy from the Dodgers side was soon-to-be 33-year old righty Luis Vasquez who was signed out of the Mexican league last year. He has been pitching professionally since 2007, and has gotten as high as AAA with the Braves in 2017 but has yet to appear in the Majors. He only recorded one out this evening (the only batter he faced) and only threw FB's but they ranged from 92-96 and all from a side-arm slot, not enough work to properly grade out but still…. INTERESTING.
Noteworthy from the Rangers side was they used a couple of guys that appeared in the game yesterday – prepping some of their relievers for the back-to-back grind of the regular season. Jose Leclerc showed the same velo he did yesterday, 95-96 with the FB and a slightly better change-up from 85-86 mph but was too much in the middle of the plate and without much depth, he got hit a little bit in his only inning of work. Kyle Bird who I discussed in yesterday's recap also came in again – this time recording just one out, left-handed hitting prospect Alex Verdugo (more on him later). This situation, by the way, the lefty vs. lefty match-up only will be obsolete next year because relievers will be required to face a minimum of 3 batters, however, if it ends an inning, like this situation did, I'm not sure if that requirement is still in effect?
The most interesting pitcher to evaluate from the Rangers tonight was 23-year old 6'4 lefty Brett Martin who I saw last year in AA Frisco. He's almost a splitting image of Cole Hamels and with good velo and plus natural plane. The biggest issue I saw from Martin last year was his timing and consistency of his release. He had a high leg lift and was frequently up in the zone and missing arm side because he has long, wrapping, action with his arm swing on the backside of his delivery. Today, his delivery has totally changed, as if the Rangers had somehow read my report. Last year I said about Martin: "Delivery is long, deliberate, methodical, cross-fire delivery from 3B side. Throws downhill with some drift. Long backside with short stride, hand wraps behind his head before delivery, causing poor timing and meaning his command won't ever be very good. Really lacks deception in delivery, hitters see ball real well due to his over-the-top slot but lots of tilt in order to get arm into throwing position. Showed ability to utilize a slide-step – and would greatly benefit from this being his consistent delivery, similar to Andrew Miller – dropping his slot, adding some deception and better timing with more natural slot for SL." Well, today he was exclusively going from the slide-step with mostly a very short stride. His slot was still over the top and he still wraps on the backside and he gets the side of his release at times, but his timing and overall command was better. At times, his stride would wander out and I would still like to see him drop his slot to give his breaking ball better, more natural movement but the FB velo and command was good enough to at least warrant an up and down role this year as he pitched 2.1 scoreless innings with 3 strikeouts to pick up the win in relief. Check out the videos below to see the difference between last year and this year and in the last video how he is still battling his stride/timing still.
Texas started about half of their regulars – Delino DeShields keeps getting on base and each of their first four batters (Choo, Odor, Andrus, Mazara) all collected hits. Their "prospects" really didn't factor into the game so let's move on to the Dodgers position players, who I was seeing for the first time this Spring.

Justin Turner – he went 3 for 3 and raised his spring average to .483. Some people don't put much stock in Spring Training stats but for a guy like Turner, who has been an elite hitter for a couple of years now, this kind of start should carry over to the regular season. The way he looked today showed me he has a legit chance to win the batting title. His timing is perfect, he has no wasted movement in his swing and his pitch recognition is PLUS PLUS. He uses all fields and hits the ball where it's pitched with great bat speed and the ability to crush mistakes in addition to hitting pitcher's pitches due to his approach. What I really like about his swing is how he starts his back foot, if you can see in the video below. His back foot is on an extreme angle, meaning he is really engaging his hip torque early in his swing and allows his upper and lower to work together in synch.

Max Muncy – DISCLAIMER – you don't hit 35 homers as a slouch. This guy can probably hit RHP pretty well and he probably kills mistakes and sits on pitches middle in. But from an advance scouting standpoint there are holes to exploit, up and especially away. Also he doesn't look super comfortable vs. LHP in general (see video below). His bat path is grooved for middle in and I'm not sure if he'll be able to replicate last year's success now that there's a better "book" on him. Again, it's tough to judge a guy on a few AB's in Spring Training and especially with the success he's had last year but I'm also worried that he might simply be more of a straight platoon guy than a breakout star.

Alex Verdugo – I first saw this guy in 2015 at the Low-A level playing the Great Lakes Loons and he always showed an advance feel to hit. He shows no fear at the plate and takes hacks against RHP and LHP alike. What I really like in the video below is you can see him recognize the breaking ball real early and does a great job of keeping his hands back. Even though he grounds out, he gets the barrel to the ball on time for solid contact and that's a great indication of future success. Finally, the Dodgers may have found a lefty who doesn't have extreme platoon splits and can be an everyday outfielder for them regardless of the pitcher. He went 0-3 with a walk, but here's a great point between scouting and analytics – he never LOOKED overmatched, he got his barrel into the hitting zone every time, he was a tough out, and he made solid contact vs. LHP. If he gets the requisite AB's, Verdugo is definitely a rookie of the year candidate for me.

Brad Miller – I didn't realize he was on the Dodgers, honestly. He came in the game with his high socks and no batting gloves and pulverized a pitch for a homer into deep right center. He has defensive versatility and is hitting .350 this Spring. Not sure if the Dodgers have room for him in their talented lineup but someone can definitely use this guy as a UTL player off the bench.

Edwin Rios – no idea who he is but I really liked his one AB (see video below). He only had 2 AB's and so I didn't get a chance to see him much but the soon to be 25-year old without any Major League experience looks like he can hit a bit (he hit .304 in 88 games at AAA last year). Someone to watch.
Top Pitching Performer: Mike Minor and Ross Stripling
Top Hitting Performer: Justin Turner
Most Intriguing Prospect: Alex Verdugo
Biggest Takeaway: WHY ARE BOTH TEAMS WEARING THE SAME SHADE OF BLUE AGAIN? No, I'm just kidding, I've already stated this every other day in previous posts. Actually, this one has to do with the fans sitting behind me talking about the Moneyball Oakland A's and how great a movie it was. The conversation went something like "that movie was great, it really showed how a small-market team can win by utilizing statistics, blah blah…." I'm sorry but the narrative has been in place for a while, yet, people never seem to talk about their 3 stud starting pitchers who were all FIRST ROUND PICKS (Barry Zito, Tim Hudson, Mark Mulder); their flame throwing closer who was a FIRST ROUND PICK (#4 overall, Billy Koch); the MVP Shortstop who signed by good scouting of the Dominican (Miguel Tejada); another MVP-caliber player at 3B who was another FIRST ROUND PICK (Eric Chavez); and the list goes on. Yes Scott Hatteberg and Chad Bradford contributed but they're not the sole reason that the A's won over 100 games that year. Nailing their first round picks and acquiring All-Star players in trades (like OF Jermaine Dye) is the biggest reason.