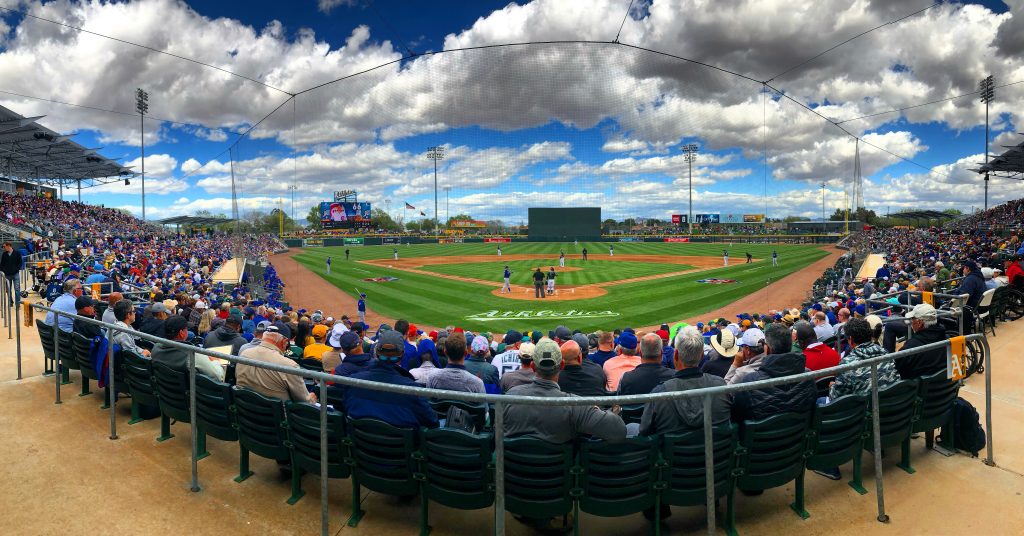 With the battle of the Mesa teams today, I didn't anticipate a mid-week sell-out in Oakland (which was also Oakland's last game before heading to Japan for exhibition games and to open the MLB season there). Today had it all – parking in the mud, lines to get in to the ballpark, unseasonably cold and windy conditions (wind blowing out), and tons of offense. With a new assignment from Baseball America fresh in my twitter messages, I set-out to zero in on some pitching prospects. Instead I was greeted to a 3.5 hour game with 28 hits and 23 runs combined in front of the packed 10,000+ Spring Training crowd.
11 pitchers were used by both teams today (and most of whom I had seen before), including starters Jon Lester (Cubs) and Mike Fiers (A's), who both got shelled, to put it nicely. Both pitchers, who are "Opening Day-type" guys, rely on pinpoint command, quality movement, pitchability and deception to get outs. With both guys command way off today and with the wind blowing out pretty heavy, it made the game into a slugfest pretty early on. At times, when you go to the Spring Training games, it feels like baseball, it smells like baseball, and it looks like baseball, but you have to continually pinch yourself that these games are only PRACTICE and you simply can't invest too much in outings where both veterans, with years of success at the MLB level, are nowhere what you expect or think they should be. So instead of wasting energy and words on that exercise, let's jump right into "prospects" who caught my attention.
Oakland's last pitcher, Frankie Montas, who we've already mentioned in previous posts came on in the 6th inning and pitched the last 4 innings allowing no earned runs, striking out 5 against just 1 walk and 2 hits and lowering his Spring Training E.R.A. to 0.69 in a strong push for one of Oakland's rotation spots. For me, Montas deserves it, and he showed better stuff, command, and equally as impressive – composure, across the board, when I compare it to the last time I saw him on March 2nd. Montas' fastball velo was up in the 93-96 range consistently, sitting 94-95, which was up from the 91-95, sitting 93 that he had on 3/2. The Fastball had plus sink and run, and ate up almost all the Right-Handed hitters, as he owned the inside half of the plate. Against LHH he showed the ability to simply overpower them with the plus velo that plays up due to his easy/controlled delivery (see video below):
His power slurve, or Slider/Curve, had a true break mostly in the 85-87 mph range (up from the low 80s in his previous outing) and looked like a plus offering to me, able to locate it and very effective front-door to RHH. His change-up, with more velo than previously seen, had plus sink to it and he commanded it to both sides of the plate. Overall, his entire arsenal was better and he even utilized a quick-pitch, at times, to toy with hitters even more (see video below):
The most impressive thing to me was his repeatable and linear delivery to the plate, poised and in control of his movements, and he displayed a calmness even with runners on base and the game being close. The only time he really got hurt was when the catcher called for a slider to a batter with limited bat speed (or as we like to say in the scouting community – "Slider bat speed") and the batter blooped a 1B down the RF line knocking in a runner who was on base due to an error. The slider he threw had quality movement and in the right spot, it was just thrown at the wrong time to the wrong batter, at no fault of his own. I can comfortably put a Role 5 grade on Montas right now (league average starter) but with his plus command of plus stuff across the board, he has all the makings to be a quality above average Major League starter very soon.
The A's rolled out a starting lineup that could very well be their opening day lineup as well. The guys I really wanted to zero-in on didn't come up until later in the game. Prospect Franklin Barreto, who still has options and is competing for a backup role at the moment, came in to play CF, where he is still very much in the process of learning. He's a natural SS by trade, and really profiles more as a 2B, but with somewhat entrenched regulars Marcus Semien at SS and Jurickson Profar at 2B, he's learning how to play the OF on the fly, so the A's can try to get some type of almost everyday value out of him by moving him around the field. After waiting a couple of games to see Barreto challenged in the OF, today was the day, with the wind blowing out. On 2 hard hit balls to either side of him, Franklin took some banana shaped, or somewhat circular routes to the ball. Both hits were into the gap and would be tough plays for even the best defensive CF's but he really wasn't close on either one. Seeing this made me question really just how much value he'll be able to bring in the OF. I am in the school of thought that doesn't believe you can take just any athlete or baseball player and stick him in the OF. Reads, especially with wind and sun, are difficult and with Barreto's prospect pedigree I don't believe he's really had much experience in the OF before this year. The way he's been hitting this Spring, I would honestly like to see him more at SS (instead of Chad Pinder, who has also been hitting well this Spring but who I think is much more limited with range and arm strength than Barreto is). If Semien doesn't hit (and honestly he hasn't looked very good at times this Spring despite the average being over .300), Barreto might be the guy to step-in and get everyday AB's there but I just haven't seen him used in that role, in the games I've attended so far.
The Cubbies started only 2 for sure regulars (Rizzo and Contreras) and the rest of guys either slated for AAA or competing for remaining roster spots to break camp. The guy who keeps standing out is non-roster invitee Cristhian Adames. He went 1 for 3 with 2 RBI's on a 2nd inning homer off of A's starter Mike Fiers (his 3rd of the Spring) and raising his average to .452 while also drawing a walk. Adames looks super patient, and getting himself into really good hitter counts to do damage. Could it be at 27 years old and parts of 4 different seasons appearing in the big leagues that Adames has figured it out? In the videos below watch first at the swing/bat path vs. starter Mike Fiers. In the next video he recognizes the spin early and stays inside the ball hitting a hard line-drive out to LF. Finally, in the last video watch HOW he tracks the outside FB, just missing the corner, all the way to the glove. These are great indications of a guy seeing the ball well (not that a .400 plus avg isn't an indication enough, but even if he wasn't, there's enough here to see more offensive value than he's shown in previous MLB seasons).
Adames looks strong, confident and defensively apt enough to play up the middle at either SS or 2B. The issue with the Cubs is they have a starting SS (Javier Baez) and 2B (Ben Zobrist) and plenty of UTL options with their "BIG" free agent sign this off-season Daniel Descalso being able to play around the field and up-and-coming prospect Ian Happ kind of appearing like a new version of Ben Zobrist. On top of that, they have former starting SS Addison Russell coming back from suspension. Adames has out-played all of them this Spring but that doesn't guarantee him a spot and so you better believe the 15-20 other teams with Scouts in attendance today were also zeroing in on Adames, to see if he might be a fit with them.
None of the Cubs pitchers really stood-out to me today (sorry, 12 runs), but former Major Leaguer, RHP Matt Carasiti, a non-roster invitee worked a scoreless 1.1 innings after Lester left. He struck out 2 guys with a 91-94 mph fastball and showed a 4-grade curveball at 80-81 mph. Carasiti has 19 games of big league action back in 2016 with Colorado (and an ERA north of 9) and his fastball was mostly up in the zone with some life (hop) at the top. Now, a few years ago when I was first starting out as a pro scout I would normally crush these pitchers in the minors and say something to the effect of – "missing up in the zone frequently, better hitters at the MLB level will lay-off." What's so interesting right now, with the state of the game, is you can't see or conclude either of those thoughts anymore. Now, with so many big league pitchers purposely pitching up in the zone and so many big league hitters chasing or trying to elevate pitches for homers – it's becoming harder and harder to decipher whether a guy like Carasiti is doing this intentionally and with enough velo, it's almost impossible to tell whether hitters at the MLB level will actually lay-off. He struck AL Home Run champ Khris Davis with a high heater and another bona-fide Major League slugger Matt Olson with the same pitch. You simply can't write a pitcher like this off anymore and so I didn't – because scouting must adjust and account for the changes in the game and how it's played – but it's still strange to me.
In the 9th inning Barretto walked, followed by A's prospect Greg Deichmann walking (who I wanted to see swing it – since he's been swinging it well with limited late-game action) and then catching prospect Sean Murphy came up, who I really like, but who has also looked overmatched at times too. Murphy hit a double to win the game but I was already out the front-gate trying to beat the 8,000 fans who remained.
Top Hitting Performer: Cubs 27-year old non-roster invitee Johnny Field had a somewhat quiet 3 for 4 but their other 27-year old non-roster invitee, the aforementioned Cristhian Adames, gets the top spot for me.
Top Pitching Performer: Oakland's Frankie Montas
Most Intriguing Prospect: Oakland's top catching prospect (and #3 prospect overall for MLB Pipeline's 2019 pre-season rankings), 24-yer old Sean Murphy who had the game-winning double in the DH spot. Here's what I had to say about him when I saw him in AA Midland last year as a 23-year old:

Make-up: Showing good leadership skills working with pitchers well. Guys like throwing to him. Good temperament, seems to have fun out there. Calm and relaxed. Doesn't seem to get to low or too high.

Hitting: Simple swing, not a big load, hands start in good position and go mostly direct to ball with good bat path creating backspin at carry. Aggressive through zone with power swing and plus bat speed/strength. Base is stable and engages core/lower half well. Keeps front foot even with short stride and usually has good leverage in swing. Projectable strength and raw power, should be 7/8 raw at peak, has more filling out into frame and hasn't developed man strength yet. Easy 6 raw now. Mishits ball to warning track. Hunts first pitch FB. Collapsing down on low pitch at times and not taking outside pitch to RF consistently enough. Not much of an approach, swings at 1st pitch off-speed out of the zone at times. Thinks he can hit everything because he does make a lot of contact and doesn't swing and miss that much. Tends to get long and around the ball at times. Mostly trying to pull but shows ability to go up the middle and occasionally to opposite field. Makes consistent hard contact. Crushing LHP, and hits mistakes in the zone out of the park or to the wall for doubles with some consistency. Will be a power hitter more than avg hitter at peak.

Defense: Athletic and spry behind the plate, gets to bad pitches well and is a very good blocker. Gloves a lot of bouncing pitches with ease that most catchers would struggle to block. Picks well and corrals ball in front of him well. Works low to high when framing, receiving pretty well, fringy overall now and abv avg at peak when instincts catch-up. Has a bit too much movement pre-pitch with hands and they're not always quiet to ball but once he gets it, he sticks pretty well. Has a pretty good idea what he's doing behind the dish and instincts are projectable.

Overall Profile: At peak he'll be a top 15 big league catcher with plus power, fringy hit tool, plus defense and leadership skills. Pretty close to big league ready but with more minor league AB's his hitting will benefit.


Biggest Takeaway: I love watching Chad Pinder play. Dude hit a fairly routine grounder to 2B that ate up the infielder, he was going so hard down the 1B line when he saw the ball trickle into the OF he didn't break stride, rounded first and slid in safely to 2B. Cliff Pennington then drove him in with a 1B to LF. Later Pinder clobbered a homer. He finished 1 for 2 but reached base twice, scored twice and drove in 2. Maybe he can't play SS the way that I would like out of a UTL INF but the WAY he plays is what any team can benefit from and offensively he's no slouch. Having guys like him coming off the bench is really the difference between similarly talented teams competing for and making the playoffs and finishing around .500 and lacking that energy/effort/production out of their bench guys.
-Boomer