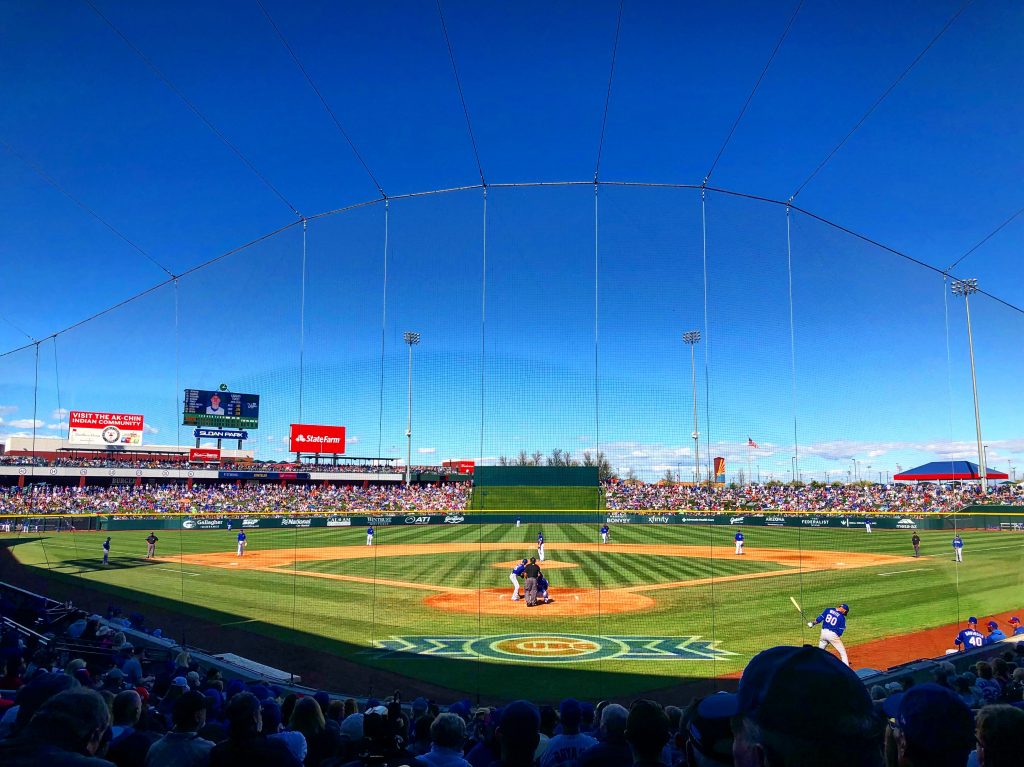 Interesting game today between the Cubs and Rangers because it looked like an intra-squad game with both teams wearing what seemed to be identical colored uniforms. Also interest, one-time Rangers ace Yu Darvish was on the bump for the Cubs, looking to return to form after missing last year (his first with the Cubs) with injuries.
The first thing that stands out about Darvish (I've never seen him live before) is his imposing size. He's massive. The delivery is fairly simple to start, he's balanced and with slight hesitation at the top of his leg lift, he gathers well and can cause some timing issues initially for batters. He spits out mid 90s heat and a big breaking frisbee-like breaking ball that he adds and subtracts from 79 mph to 86 mph. Yet, for only giving up 1 run during his outing, he did not pitch well. He frequently bounced his FB that sat between 93 and 94 mph, topping out at 96. Really he displayed 2 command of it. He needed his breaking ball a lot in the 2nd through 4th innings in spots normally reserved for fastballs, especially one with kind of velo and hop to it. I took some video to further understand what was happening that I might not be seeing with the naked eye.

It appears, that on his breaking ball, he really gets around it with his release and his arm extends far from his body. Even though he's rotational to the plate he stays on top of his 3/4 release and finishes out in front well. It looks natural. He shows the ability to command it for a strike and also get it too move off the plate when he needs to.
Meanwhile, with his FB, his slot changes and looks like he's more "inside" his release and unnatural, like he's trying to stay on top but it's working against his natural slot. It almost looks like he's short-arming his FB. This shows up at the plate where he constantly battled inconsistency with his FB command all day, literally bouncing or missing wide almost every other fastball he threw.
It became such an issue that he really just started throwing predominantly breaking balls to hitters. Even more remarkable was how good his breaking ball moves because batters could not barrel it despite sitting on it. Maybe his slot should be lowered across the board or maybe this type of issues really seems to be more mental than physical in nature. Indications from his body language on the mound (deep breaths, practicing his release) and walking off the mound (head hanging low and look of defeat) further that point. As it happens in scouting players, the stuff grades out to be plus across the board, but between his FB command, his history of recent struggles dating back to the 2017 playoffs, and his overall demeanor/composure – you have to knock him down a few notches in role grade because he's simply not dependable in this current form. Can you he recover? For sure. The stuff hasn't backed-off at all and if he can conquer these hurdles, he's back to being a top of the rotation guy, however, I'm not betting on it either.
The Rangers, who brought about 2-3 of their regulars countered with big righty Connor Sadzeck as their "opener." He sat 94 with a mostly straight FB, amped it up to 96 at times without much command and flashed a CH and/or a SL that blended together in the 87-88 mph range. Sadzeck, who has lots of moving levers in his delivery, kind of sticks his arm on the backswing and causes him to have timing issues.
Sadzeck recorded 2 outs and yielded a run before being relieved by another righty, Adrian Sampson who threw some fringy off-speed offerings (that also blended together for me) between 83-89 mph and a decent fastball that sat 93 (ranged 92-95). He pitched okay for me but didn't really flash a finishing pitch in his arsenal. Both pitchers are 27 years old and both have a combined 8 games at the Major League level in their careers. From the looks of it, Sampson may be more of a Role 3 longman/mop-up guy that could potentially stick for a season in the bigs, while Sadzeck with the bigger arm and size, looks more of an emergency type reliever, probably too good for AAA but not enough command/feel to warrant a full-time big league gig.
Meanwhile, the Cubs rolled with what looked to be potentially their opening day (or a version of it) with just Anthony Rizzo at the DH spot and giving back-up catcher Victor Caratini more AB's at the 1B position. The Cubs managed just 3 hits on the day, and all of their regulars received 3 AB's (since we are at that point in the Spring where 25-man roster guys are going to be stretched out). Nothing earth-shattering to report but watching Javier Baez in-person again is a treat. This guy has a a pretty standard 1-3 but you're always on the edge of your seat when he swings. Yes, he tends to expand the zone, and it seems like there is little to no approach at times but he has tremendous bat speed and eye-hand coordination. As a fully-developed man now at 26 years old, he also has the requisite strength to be one of the best power hitters in the game. I didn't even realize he had 34 homers last year and just watching him swing it the past few weeks – how comfortable he looks in the box, his bat speed, and his strength – I can see him going over 40 homers this year, if healthy.
From the Rangers position players I really wanted to zero-in on last year's Rule 5 pick Carlos Tocci and this year's newly acquired prospect from Oakland, Eli White. Tocci, who I had seen in the Phillies system back in 2017 when he was picked in the Rule 5 draft (I also recommended him to the Orioles, full disclosure), looked overmatched and unsure of himself at the dish. His calling card is his defensive prowess in CF but he was DHing today and didn't really impress me in his limited action.
Eli White, who was acquired in a 3-team trade with Oakland and Tampa this winter played 2B, his most natural position and also looked overmatched at the plate vs. Darvish and the other Cubs righty relievers. He was either pressing badly or not recognizing pitches because he had a number of bad check swings and the trigger was late getting going. He finally got a hit later on and stole 2B but he has more of a platoon / UTL player look to me. He'll probably start the year in AAA and although I'm not necessarily down on him – I just think the skill-set is limited to a part-time / platoon vs. LHP or moving around the field to get as much value out of his defense.
Note: I left the game in the 6th inning to go catch a college game across town, so unfortunately I missed some Rangers relievers I wanted to see – C.D. Pelham and Jeff Springs, and Cubs off-season pick-up, former minor league slugger with a big arm and now a converted reliever, Rowan Wick. Therefore, I won't post my "top performers" from today but once again, my biggest takeaway – why are both teams wearing the same color blue for this game? I can't wrap my head around it…
-Boomer