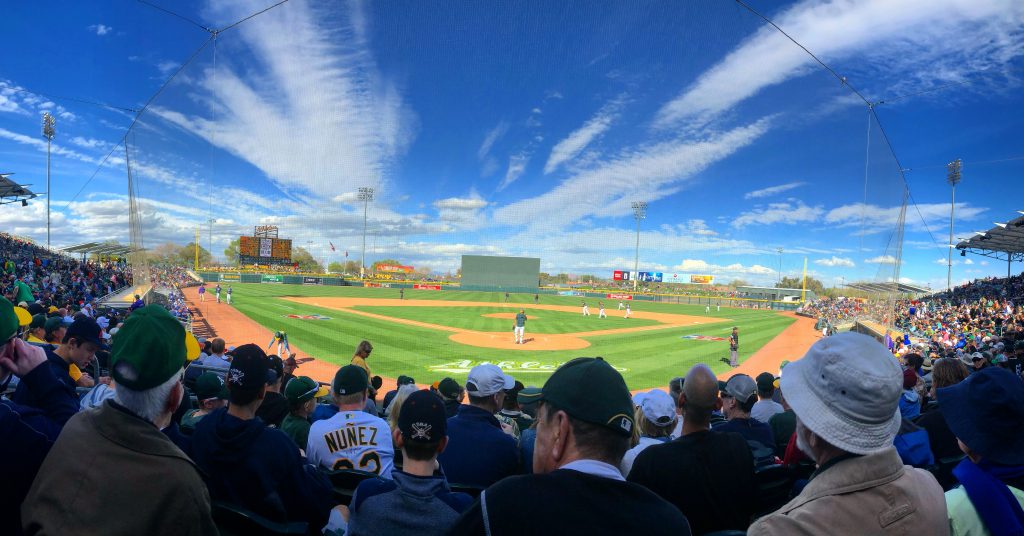 Due to the good graces of some scouting friends I am happily staying in Mesa for another Spring Training game today. I have a particular interest in the Padres (and I am not talking about Manny Machado here) because I have been scouting their system continuously since 2015 while working for the Orioles AND because they have arguably the most talented farm system in the game.
23-year old RHP Chris Paddack was on the bump to start for the Padres today. He is currently ranked as the #5 Prospect in the Padres vaunted farm system by MLB Pipeline (and #34 overall). I saw him make one appearance (his first one with the Padres) back in 2016 at the A-ball level for Ft. Wayne, right after coming over in a trade from the Marlins and only shortly after returning to the field after sitting out 2015 with TJ surgery. Paddack was as good as advertised and he dominated with a 91-96 Fastball with natural cutting action and a lot of hop at the top of the zone. He sat at 94 MPH throughout his 4 innings of work, generating plenty of swings and misses with it and showing the ability to go 95-96 when he was ahead in the count. He especially apt at pitching inside to RHH with it and due to his position on the 3B side of the rubber he really owned the inner half of the plate against RHH. The ability for a RHP to pitch inside vs. RHH is an incredible weapon. He also utilized a legit above average change-up to both RHH and LHH. He threw it in the 83-85 range with really good deception and quality 2-plane movement and commanded it to both sides of the plate. Again, his ability to command it low and inside to RHH (or as we say in the scouting community – "front-door") was especially noteworthy. He only flashed his 3rd offering a consistent 12-6 curveball on occasion and really didn't need it today on his way to 7 strikeouts with no walks or runs allowed and limiting Oakland to just 3 hits. His delivery was repeatable, linear and he hides the ball real well on the backside before a quick arm through the release-zone – giving him both plus deception and projectable plus command of all his pitches. Finally, he displayed really good mound presence and you could see he really had an idea of what he was doing. Check out these videos of his 95 FB and dirty change-up – both strikeouts.
The only real negative I saw was that he wasn't always consistent to the glove side of the plate with his FB and so he may need to develop a cutter to get inside on LHH better, but with this arsenal as it stands, he clearly as the makings of a role 6 starting pitcher, good for the middle rotation of any MLB team at his peak (i.e. #3 starter). Without being able to grade out the breaking ball and without seeing a harder slider/cutter to get on LHH, that's the only thing preventing me from going Role 7 (or top of the rotation type of starter). Again, it's Spring Training and so putting a full report on him with this outing is a bit challenging.
Before we move on from Paddack's great outing, there's one more thing that happened that involved him that I would like to touch on. This really isn't much to do with Paddack himself than it is emblematic of why pitching stats can be so misleading, at times. In the bottom of the 3rd inning, with 2 quick outs already behind him, leadoff hitter Robbie Grossman (batting left-handed) came to the plate. Grossman had already seen Paddack to lead-off the game and given his overall hitter profile the 2 courses of action would to be start him off with Paddack's least featured pitch – his Curve, as a "get me over" offering to try to steal strike one and change Grossman's eye level a bit OR try to bust him in with a mid 90s FB (I don't care who is hitting, this is always going to be tough to barrel early in the count). Instead, Paddack questionably threw a 1st pitch change-up about 84-85 mph that Grossman singled into RF just to right of the second-baseman (see video below). Then the next batter, Franklin Barretto singled on a full count after seeing 5 FB's in a row. Paddack got the next batter, Chad Pinder to ground out, but let's say Pinder's ball gets through and a run scores – the earned run is charged to Paddack even though he basically did what he was supposed to do – he pitched the pitches that were called to the location the catcher called for. So he may give up a run or two in an inning that he could have easily been out of – if the catcher calls the right sequence. Now, it's Spring Training, and of course his catcher Chris Stewart, and in general the coaching staff may be calling pitches based on what they think Paddack needs to work on – we don't know the answer to this question. But in a broader context, if the situation unfolds the way I just described and Paddack is charged with a run, thus raising his E.R.A., a lot of times the pitcher gets blamed for the run or for throwing the wrong pitch, when there are so many other factors involved. The sequence really made no sense from the point of view that here's a pitcher with 3 quality pitches and 96 in the tank and he's cruising and you open the sequence with a 1st pitch change-up to a below average Major League hitter. This is on the catcher, or whoever is calling the pitches and really there is no way for statistics to account for this.
Paddack gave way to a couple of relievers and a few guys caught my attention. First out of the pen was 29-year old righty Robert Stock. With only one season and 32 games under his belt, I honestly had never seen this guy but he was impressive with a 95-98 mph fastball from a low 3/4 slot and decent breaking ball that had plenty of shape from 81-84 mph. Now, Stock is a bit of a shoulder spinner (opening up early) and comes at the hitter with a lot of effort causing him to be a bit all over the place at times and he also was guiding his breaking ball on occasion. But there's no reason to think he can't be a solid bullpen contributor with the stuff he flashed today and what he built on last year.
Relieving Stock in the 6th inning was Phil Maton who I saw last year in AA San Antonio. So far this Spring Maton has yet to allow a run and last year he provided solid value in middle relief. This could be a potential closer candidate for the Padres. He doesn't overpower guys but he throws predominantly a cutter with good shape at 88-89 mph and I've seen him run his FB with natural cut up to 93 mph and then more of a true slider back down in the mid 80s. He spots up all three of these pitches and with a somewhat funky delivery and the late movement of all his stuff, he has the requisite deception/command/stuff to get a lot of outs at the big league level. You don't necessarily need big time velo to be a shut-down reliever. This is an example. I like this guy.
Meanwhile Oakland went with a number of contributors from last year's teams and an impressive newcomer, veteran Joakim Soria. I mentioned Soria a couple of days ago where he was utilizing various slots to trick hitters right now. This is a much different Soria than I had scouted in the past (and a reason why advance scouting is so necessary still, in order to stay on top of players who are continually making adjustments to their game). Once again Soria breezed through his 1 inning of work utilizing various slots and an array of offerings to fool his opponents. Today he threw a few more change-ups in the mid 80s to lefties and continued to float a CB in from a high 3/4 slot and a low 3/4 slot from 69-75 mph. His Fastball was 90-91 today from both slots and with solid movement, including one that had nice arm side run back over the outside corner of the plate to a RHH. Somehow at 34 years old, when most pitchers are on the downturn of their careers, Soria has mastered the use of multiple slots and reinvented himself as a quality MLB reliever. Good pick-up Oakland.
The Padres brought a number of their younger starters and a few top prospects to this away game. Corner Outfielder Hunter Renfroe, a former top prospect who is now 27 years old was impressive today going 2-3 with 3 RBI's and hitting every ball on the nose. I've seen him in the minors struggle with pitch recognition and have a lot of swing and miss issues at times. He still clears his hips early and kind of sells out for a pull swing but when he connects he hits the ball hard. The load isn't that big, and he understands his own strength better now, so he can still tap into his power without needing much extra movement to get to that power swing. The opposite is the case for 20-year old former 1st Round Pick Hudson Potts. Potts has a body type and strength that profiles similar to Renfroe but the biggest difference is I don't think he realizes yet just how strong he is and how unnecessary his longer load is. Even though he made some very solid contact driving some low 90s FB deep into the outfield, both were pitches he should have actually deposited over the left-field fence but in every at bat he was continually late getting to the ball on time with his bigger load. His back elbow drifts too much for me and even though he showed probably good exit velocity due to his natural strength and bat speed – his lack of timing means that he ended up flying out to the deepest part of the park in 2 consecutive AB's. You still like the size and strength and he's young enough to make the adjustment to cut down on his load, so I'm not giving up on him by any means, but these are interesting things you can factor into scouting evaluations when you really start to focus in on particular players.
The Oakland offense didn't do much against the quality San Diego pitchers for the first 6 innings. Then in 7th they busted out – sparked by Dustin Fowler leading off with a 1B, one of my favorite catchers from scouting the past 5 years in the minors, Josh Phegley belted an opposite field homer. He had previously thrown out a base-runner attempting to steal 2B with his cannon arm (clocking a 1.85 pop-time) and I had turned to a scout behind me and sang his praises and concluded by mentioning I always thought he would be more productive at the Major League level because I figured his power that he displayed in the minors (30 doubles and 23 homers when I scouted him in AAA with the White Sox in 2014) would play more at the big league level. As readers of this website already know about me, I really value strong defensive catchers who can hit a little bit. Even at 31 years old, Phegley can still be coming into his own as a hitter and because he can catch, you simply can't give up on that kind of power and arm. I'm not saying he'll be an All-Star, but can he provide at least part-time value at the catching position? I still believe so. The Padres were still up by 3 runs when Oakland came to bat in the 8th inning. That changed very quickly when a number of guys I had never heard of before made the most of their "big league AB's" capped off by 2017 2nd round pick Greg Deichmann, out of LSU, jacking a 2-run homer down the RF line to give the A's the lead and eventually the win. I have no history of Deichmann and he only hit .199 in 166 AB's at the High-A level last year, but he did hit the homer off a Major League pitcher and he did it with a fast-twitch, explosive swing that will be etched in my memory and now I have another name to circle and pay attention to.
Top Hitting Performer: Chad Pinder (OAK) – he had been playing DH in previous games and he had been stinging the ball. Today he filled in at SS and smoked 2 doubles against 2 big league caliber pitchers. He has a quick twitch swing with strength and solid plate coverage and he does not get cheated. I don't know if he's an everyday guy but he certainly is a bat with value at the Major League level.

Top Pitching Performer: Chris Paddack (SD) – final line of 4 innings, 7 K's, 3 hits, 0 walks, and 0 runs. This guy has put up stats at every level of the minors in his young career. The Padres biggest weakness is their starting pitching. He proved to me today that he belongs in the big leagues. He's old enough and even though he may not have the "requisite experience" I think the St. Louis Cardinals have showed over the years that if you have the STUFF and the COMMAND to pitch at the Major League level, then why the heck not bring the guy up? San Diego can use this guy in their rotation and I hope they do the right thing and let him break camp with the team.

Most Intriguing Prospect: Paddack with a special shout-out to Diechmann for getting us out of the ballpark a few minutes earlier by not having to play the bottom of the 9th.
-Boomer