I'm not quite sure how to start this post. It is now Sunday evening and I have seen baseball from pretty much every level since Friday. From Friday at noon to Sunday at 4pm, I managed 5 games at 5 different levels. Let's not waste too much space and just recap.

Friday March 15, 2019: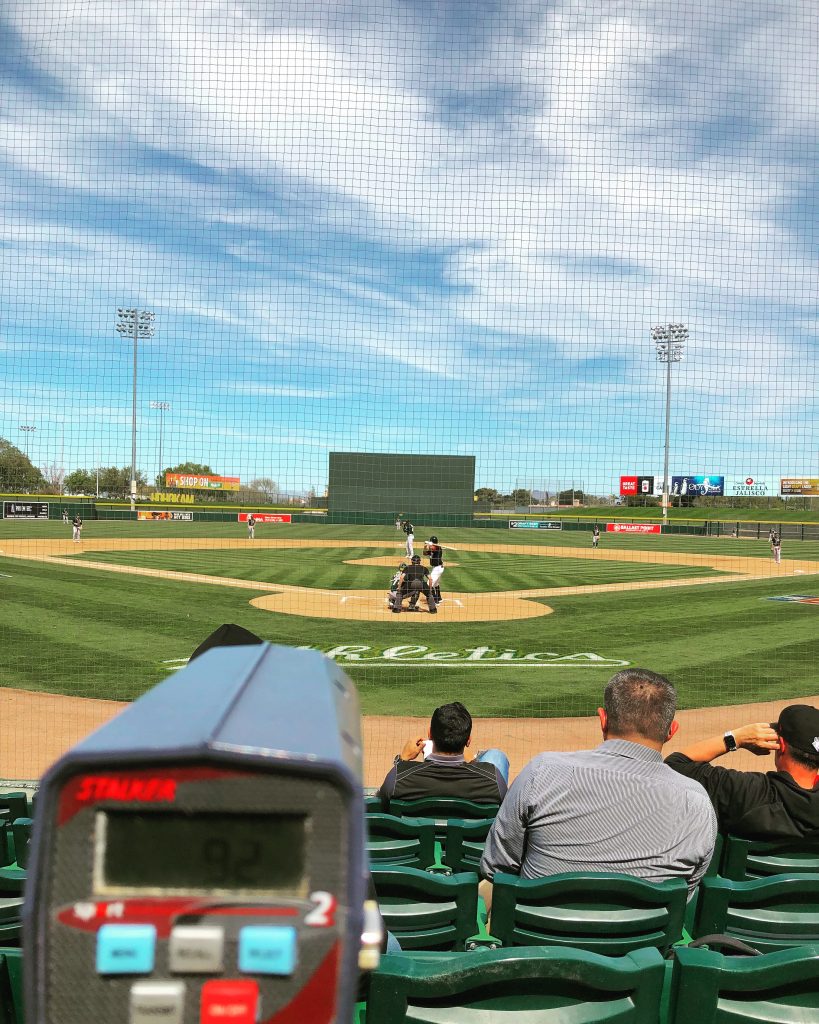 Went to see Oakland's minor leaguers play against the Toros de Tijuana, a team from Mexico's highest pro league. There's no line to get into the stadium. No parking attendant. No one is at the gate. The scoreboard is off. No one is handing out scorecards. No announcer to announce the batters. It's on the the Major League Spring Training field for Oakland that was just packed to capacity a few days ago when they played the Cubs, and before they left for Japan, yet it had this really eery emptiness while simultaneously having a very relaxed setting of just watching baseball. Also, my familiarity with most of the players on the field is at about 5%. So I sit back and let the game come to me.

An A's pitcher with the last name Mora (research confirms it's Jose Mora, a 21-year old big body righty who pitched at Short-Season Vermont last year) showed a 92-94 FB and a fringe-average change-up that he used to strike out a tall lefty #51 who had a decent swing.


The batter, #51 came up later and absolutely smoked some lasers to the opposite field looked soooo familiar. I later determined it was former Baltimore Orioles Major Leaguer, Henry Urrutia, a Cuban defector, now 32 and playing professionally in Mexico. I always loved his swing and never really understood how he couldn't find more sustained success at the Major League level. Maybe it's a little too late for him, but he looks in great shape and he still rockets the ball around the field with a great swing and approach.
My favorite Oakland A's Minor Leaguer catcher, Cesare Astorri from Italy, came up for the 2nd time (after recording a double in his first AB) and battled a decent lefty with upper 80s velo before popping up. I like the balance in his swing and bat path to the ball.
Astorri has the makings of a solid professional hitter and with his above average receiving and arm strength behind the dish, I think he really has a chance to be a Major League contributor.
After sitting through 6 innings of the A's vs. Toros, I hustled over to Mesa Community College where the Division 2 Junior College battled another JC, Dawson Community College, in town from Montana, but I spent most of the game talking to the coaches finding out when their "prospects" were going to play next.
Saturday March 16, 2019: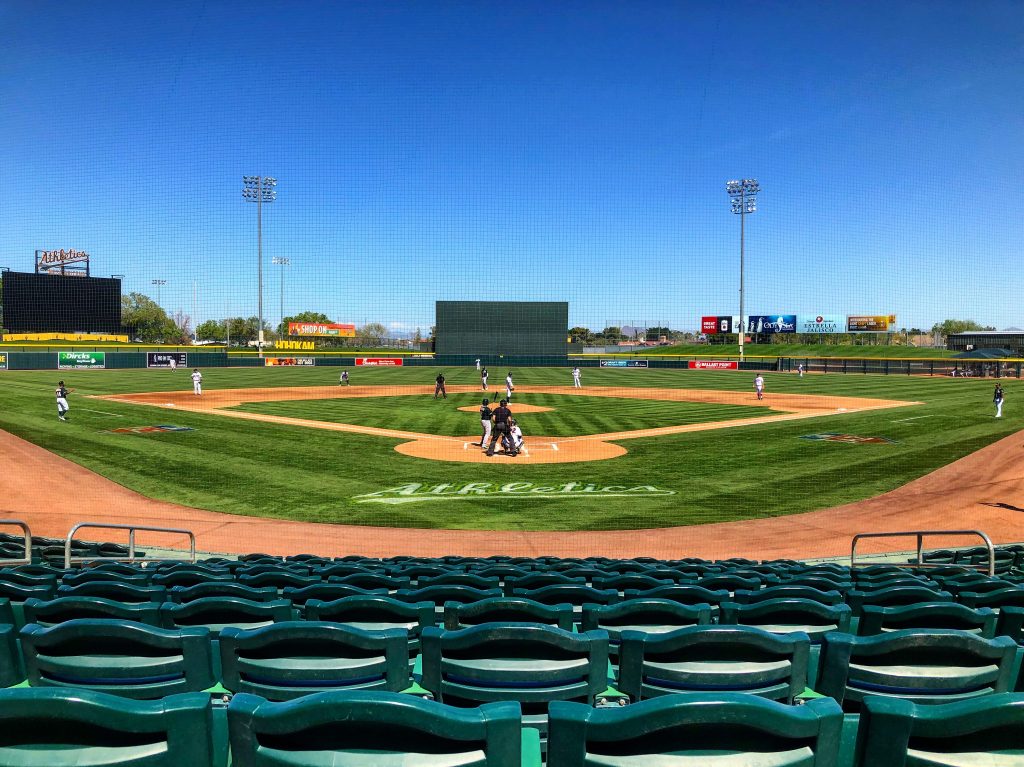 Made my way back to Oakland's complex in Mesa where a different batch of A's minor leaguers took on the Czech Republic National Team who I coach against every June in the Prague Baseball Week tournament and is comprised of a few players I coached in 2013 when I spent the season as player/manage for Hrosi Brno in the Czech league (in addition to scouting Europe for the Orioles), and also included a former teammate of mine from when I played for the Hamburg Stealers in the German League in 2011.
One Oakland pitcher caught my eye – 19 year old Dominican righty Angello Infante who had a nice, smooth, and linear delivery with plus command of a 88-91 mph fastball and a fringy slider from 80-82 mph. He's small and doesn't wow you but showed enough command and stuff to at least be a solid organizational guy.


A few Oakland batters caught my attention as well – skinny right-handed hitting OF George Bell (son of former MLB MVP George Bell, who was once traded for Sammy Sosa). Bell, who is 19 years old and has never played above the Rookie-League, looked comfortable in the box and has a decent swing with a quick trigger but is still very skinny and raw and has a lot of room to add to his frame.

Another OF, lefty swinging Mickey McDonald, who is 23 years old and hit .284 at Low-A Beloit last year, had a nice smooth swing that reminded me of Baltimore Orioles catcher Chance Sisco. One of Oakland's top prospects, 19-year old OF Lazaro Armenteros was also playing and showed me a good swing, the ability to drive the ball, and a projectable body and athleticism in a few AB's.
Oakland's Catcher Cesare Astorri entered the game at catcher and showed his ability to steal strikes and frame pitches well – check out the video below.
Czech Republic's national team, comprised of the country's best players, is in town to warm-up for this year's European championships and Olympic qualifier. The Czechs were energetic and happy to be in the Arizona sun and played with enthusiasm as they competed against the pro Oakland players despite having no current affiliated-ball guys on their roster. They had a couple of stand-outs including former Orioles minor leaguer, lefty starting pitcher Jan Novak, long-time national team 2-way player Martin Schneider, who came into pitch from SS and threw a scoreless inning of relief with moxy, composure, command and movement that I've come to expect from him.
Former Minnesota Twins minor leaguer and current Prague Eagles OF Matej Hejma smashed an opposite field double with a swing and strength that made him a very intriguing prospect in the past.
Finally, young Martin Muzik, who hit .407 with 12 homers at Wake Tech Junior College last year, looked REAL good – lacing a triple into the RF corner and racing around the bases with plus speed for a catcher. Muzik might still be a guy for pro teams to consider – he's young, with a strong frame, compact swing and the ability to play the OF as well as catcher AND still developing his game.
I then jetted across town to Phoenix municipal stadium to catch the NCAA Division 1 baseball game between #19 ranked Arizona State and Pac-12 rival Washington State. I was treated to a back and forth game with high intensity and good baseball, with ASU coming back to win in the bottom of the 9th and remaining the ONLY defeated team in Division 1 college baseball.
Arizona State's infielders were impressive to me. Sophomore 1B Spencer Torkelson crushed a first inning homer and finished 2-4 and across the diamond sophomore 3B Gage Workman belted a 2nd inning homer to deep left center to put the Sun Devils up 3-0. Both guys have the size and swings to project for pro ball. Being my first game watching NCAA this year (and in a while) it's still WAY too early for me say exactly how good they are or what they will be but given that they're both sophomores – as a scout, you circle their names, do your homework and come back again when it's NOT spring training.
Scouting 101 – always start up the middle and let your eyes gravitate towards the ball players. From pitcher to catcher and then SS/2B and CF. If a guy doesn't show you at the plate why he warrants consideration he better be able to play up the middle defensively (or be a pitcher). The two guys that really stood out to me from ASU were the SS and Catcher. Sophomore SS Alika Wililams showed me a really impressive play up the middle fielding the ball behind 2B spinning and throwing a bullet to the 1B to get an out. I started focusing in on his actions and I really liked his small, choppy steps, good reads and overall range. He had good instincts and actions to project AT LEAST some defensive value in professional baseball. The San Diego kid who is skinny and not even close to being done filling out wasn't a slouch at the plate either. He went 1-4 with a run scored with a nice inside-out swing and contact oriented approach. His one hit, was a double to the opposite field.
Another guy to watch up the the middle is catcher Sam Ferri. I noticed his strong throwing arm as he popped a 1.85 on a pitch-out. I also liked how low and flexible he squatted to receive the ball. Check out this video of him receiving a Curve –
The pitch framing needs some work (but who doesn't?) but it's not bad either. He hit two fly balls to RF in his first 2 AB's but then came on strong late with a full-count RBI single in the 7th and the game winning walk-off homer in the 9th.
The real pro prospects for me were the starting pitchers – ASU Sophomore righty Boyd Vander Kooi (great name) and Washington State lefty A.J. Block. Vander Kooi featured a fastball between 88-93, sitting 89-91 for the majority of his 6.1 innings pitched. His best off-speed was a sometimes tight 3/4 curveball that worked to both RHH and backdoor to LHH. It was 77-80 mph but he didn't always throw it with the same conviction and it didn't always have the same shape. It's a projectable offering and a pitch I think he could have used more in the outing. His third pitch was a turnover change-up that looked like a screwball at times from 84-87 mph. He has a broad upper body and there's more velo in there – especially with a move to the pen in pro ball.
The best prospect though was Washington State's starter, draft eligible Junior A.J. Block who the other scouts in attendance (Dodgers and Mariners) were zeroing in on. A lefty with a 87-90 FB and a tight 1-7 shape curve with consistent break in and out of the zone and command of both pitches. He will at least – or should at least – be able to get LHH out at the next level but the change-up will need to develop for him to continue as a starter and be effective against RHH. Overall he showed solid control (when he missed, he was just missing) and good composure and mound presence. Again, a move to the pen and more strength will allow him to get a little more velo out of his max effort delivery and 6'5 frame. He's a guy to watch.
Sunday March 17, 2019:
The next stop on my weekend baseball tour through the valley was the furthest place on the map – Surprise Arizona, Spring Training home to the Texas Rangers and the Kansas City Royals. Honestly, the hour drive seems long here in Phoenix but compared to Spring Training in Florida (where the furthest drives are over 5 hours), this isn't bad at all! Today's match-up between mostly Rangers regulars and mostly Diamondbacks reserves was a lot of familiar faces, a lot of new faces and a lot of action with a total of 48 players appearing.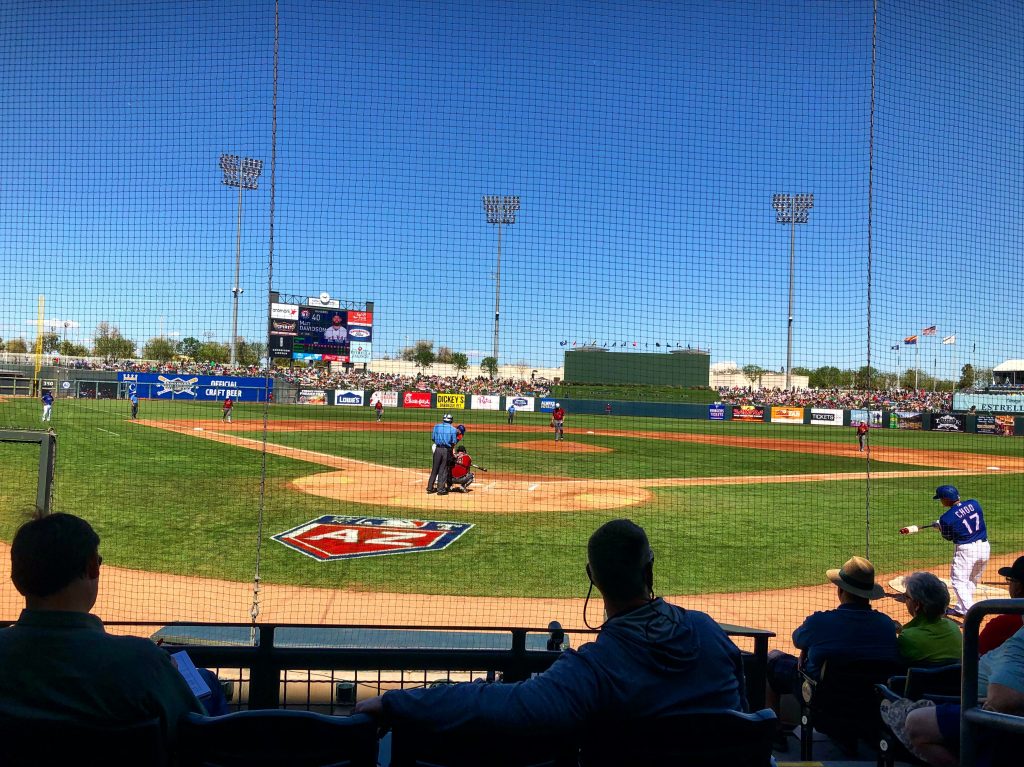 First, the Rangers pitchers: 24-year old Lefty starter Yohander Mendez, with 17 games in the bigs over the past 3 seasons showed plus velo early at 93-94 but was down to 89-90 by his third inning. Something happened because he left the game after recording 1 out in the 3rd with an apparent arm injury.

Next up was lefty Jeff Springs who I missed last week vs. the Cubs but I really liked last year when I saw him at AA Frisco in June, before he was called up to the Majors. Here's what I had to say about him last year:
Delivery: Quick, full effort delivery with tilt. Front side goes high in air, with lots of moving parts, can be distracting to hitter. Release is inconsistent. Gets on side at times and drops his slot but delivery also has some deception built in making it avg overall. Pitches from 1B side of the rubber.

FB – straight with some natural cut and hop at top. Tends to take off glove side. Every batter is late on it, deceptively quick. Locating better glove side than arm side. Sitting 90-91 on 6/10, 92 at end of inning when he needed K. Sitting 90 in 2nd inning. On 6/13 sitting 91 overall. Lots of swings and misses and no hard contact against. Plays up due to deception and how he compliments it with other pitches.
CB – 77-82 mph, firm, working front-door to LHH. Some roll more. Not getting consistent chases but it's a fringy offering, more complimentary in nature.
CH – to RHH with lots of pronation. Pretty good depth to it and getting RHH to swing and miss down. Good deception to it but not all have the same sink/movement. Throwing to LHH as well front-door but works better vs. RHH.
How he pitches: Makes FB look better when he throws CH first. Mostly near or around zone with FB but not precise to spots. Looks better vs. RHH than LHH because CH is better than CB.
One line summary: Funky LHR w/ deception & solid stuff for mid-relief role
Springs was similarly impressive today. His delivery was unchanged, still deceptive with different levers but also gave him some timing issues that led to some erratic misses early in his outing before he worked through it and figured it out. He missed barrels with his fringy off-speed offerings but his FB continued to play up, being deceptively quick and making almost every hitter late, even in FB counts. He's still a guy I have pegged for a solid relief role breaking camp.
Small 25-year old righty Jose Leclerc came in later and showed a 95-96 FB with life and an assortment of average off-speed offerings – a 77 curve, 84 slider, and 89 change-up all with solid action but not a ton of depth due to his below average plane. I don't see him as a shut-down reliever because the fastball has a tendency to flatten out in the zone (see the video below) but he looks to be at least a role 4, solid-average ML bullpen piece.

After a quick 1-2-3 inning by Leclerc, 6'8 righty Chris Martin came in and struck out 3 of the 4 batters he faced and looked SUPER impressive. With an easy, linear, and balanced delivery his 94-96 mph FB had plus natural plane to it and showed really good carry through the zone, generating swings and misses. He was throwing his Fastball more in the middle of the plate but the natural depth and hop made it difficult for the Dbacks hitters to square up or get on time. He complimented the FB with a Major League average Slider with good tilt from 86-89 that froze RHH. He threw just one change-up at 88 MPH. After spending 2016 and 2017 pitching in Japan he finally had success at the big league level last year for Texas and looks to be another solid bullpen piece for the Rangers in 2019.
Finishing off the game for the Rangers was minor league lefty Kyle Bird, a 35th Round pick from the Tampa Bay Rays excellent scouting department. I last saw Bird at High-A Port Charlotte in 2016 and had recommended him to the Orioles as a Rule 5 selection in 2017. He was traded to the Rangers this past off-season in the 3-team swap with the A's and although he is on the 40-man roster, he probably starts the year in AAA. In his limited work he looked like he can contribute at the Majors at some point this year – showing a solid Fastball from 91-93 and a big sweepy slider at 80 mph. I think he's similar to another lefty I helped acquire while working for the O's by the name of Paul Fry. Bird should be able to AT LEAST get most lefties out and has enough stuff and command to get some RHH out as well.
The Diamondbacks started their own lefty Rob Ray, who I haven't seen live since he was in the Detroit Tigers organization bouncing between AAA Toledo and the big leagues in 2014. Ray was his normal solid self featuring a FB from 91-94, mostly sitting 92 and a bigger shape Slider with tilt from 82-84 mph that generated a lot of swings and misses against the Rangers lefty hitters. He threw a slightly slower version of this pitch from 78-80 mph that I guess you could call a curveball. The pitch was plus at times, and other times just average but he was able to get it to dive below the zone when he needed to when ahead in the count and able to locate it within the zone for a strike as well. His change-up was adequate from 80-84 mph but I don't love it. His delivery is a bit herky jerky and full of effort, he even grunts on about 75% of his pitches (see video below). The grunting is something I actually like, as long as it's consistent between his pitches (which it isn't always) because it shows he's exhaling during the pitch instead of holding his breath in, and that allows him to get the necessary blood flow movement and capillary expansion to maximize his arm speed. It also can be distracting to hitters as well. At times he has a tendency to rip his front side open too quick causing his fastball to be up in the zone and lacking plane and that's where he'll get hurt at times, but when he stays on-line and pitches off his breaking ball, he'll have no problems being a dependable league average starter again this year.
Ray gave way to their normal bullpen guys Braden Shipley and Phoenix Rockstar Archie Bradley who both flashed some above average stuff but struggled with their command today, leading to some Rangers runs. Two interesting lefties finished the game for the DBacks, first Robbie Scott, a side-arm angle pitcher with a deceptively quick 88 mph FB that is just a tough look for lefty hitters. I didn't really like his CB that he got around and casted from the side, changing the shoot from which he releases his FB from. Scott had some initial success when first appearing in the big leagues in 2016-2017 for Boston but he didn't fare well last year for the Sox in limited action. After being DFA'd this off-season he was dealt to the DBacks where he may have a better opportunity to contribute but he's already 29 years old, and that breaking ball needs to get tighter and coming from the same release window as his FB if he's going to find more prolonged success. It's always hard to give up on lefties in this industry who have some funk, command and the requisite velo and Scott fits that mold.
The last guy in for the Dbacks was 25-year old lefty Alex Young. Young pitched in AA and AAA last year and came out throwing 88-91, sitting 90 with some arm side tail to his FB. His 83-85 cutter was flat and didn't do much in the zone or generate any chases out, but his 2-plane fading change-up from 83-85 mph looked really solid and the bottom fell out at times getting some swings and misses from RHH, especially ahead in the count. He gave up to hard hit balls to lefties though and it caused me to go look up his splits. My instincts were confirmed by his AA numbers last year as he feared much better against RHH due to his change-up than to LHH. His AAA numbers were about the same, evenly spread, but it's still an interesting guy if he can figure out a way to be tougher vs. LHH – maybe moving over to the far 1B side, maybe introducing a slower breaking ball (maybe he has one and I just didn't see it).


Because this recap is already WAY TOO LONG, here are some quick notes on position players from both teams:

Texas –
Delino DeShields – speed kills. He beat out a bunt, going 3.7 down the line. I love guys that can do this (something that's been lost in today's modern game of homers and strikeouts). DeShields had another hit and ended up scoring 2 runs. Get on base at the top of the order and let your hitters drive you in. A recipe for success since the dawn of the game.

LeDarious Clark – speaking of speed, the former Adelaide Bite outfielder, who has yet to find success as a hitter in the minors but possesses legit 30 SB speed was clocked at 4.0 down the line from the RH side on a grounder. This rates him at the very top of the scale for speed. Now, if he just figure out a way to get on base…

Willie Calhoun – the former Dodgers minor league prospect who came over to Texas in the 2017 Yu Darvish trade has always been able to hit in the minors. He's got a compact frame and is able to control the bat well through the hitting zone. He went out 0-2 today off the bench and in my opinion his swing is just WAY too big (see video below). They're shifting on him and he's trying to jack everything over the RF wall. When he finishes his swing his helmet comes off and his head ends up looking in the crowd. I'm all for taking hacks in hitter counts but with his hit tools he could really be a solid offensive weapon by staying within himself, using all the fields and picking his spots to swing out of his shoes. When he finally puts the ball in play, it's the same swing and you can see him collapse down into his swing with isn't helping him get the necessary leverage to drive the ball out of the park anyways.
Zack Granite – the 25 year old lefty swing OF who was traded just this month to Texas after being DFA'd by the Twins had a really nice hard hit 2B vs. a LHP. Never seen him before but looks like he'll at least provide some solid organizational depth at the AAA level.

Arizona –
Christian Walker – the 27-year old righty slugger who always an Orioles top prospect and has seen action in parts of 4 MLB seasons is no longer blocked in Arizona by All-Star Paul Goldschmidt. He's off to a hot start this Spring and had 2 hard hits today (see video below) to raise his average to .378. In 2017 he clubbed 34 homers and drove in 114 to lead the AAA Pacific Coast League. This guy could always hit and he just needed an opportunity. I love his swing (compact) and his path to the ball allows him to create really good backspin and carry. He only has really needed to work on his approach and I think given everyday AB's with the Dbacks he'll have a chance to hit 30 homers this year. This is a breakout candidate, you heard it here first.

Carson Kelly – the 24-year old top catching prospect who came over to the Dbacks in the aforementioned Goldschmidt deal this off-season has always been a been a little more hype than production for me. He was blocked in St. Louis by Yadier Molina and wasn't sticking on the Major League roster as a back-up because he needed to get everyday AB's in the minors. When he did come up he never really hit. I first saw him in High-A in 2015 when he was transitioning to catcher. The coaching staff raved about his work ethic, leadership and overall character. You can see that in the way he acts on the field. He's turned himself into a solid defender behind the dish. There's still some issues blocking (I saw him in Detroit last year with quite a few passed balls) because as a taller guy, he has some issues getting down quick enough. I do like how low and flexible he sits to receive pitches and you can tell he's really worked hard and improved his pitch framing. He threw out a would-be-base-stealer with an absolute hose – about 1.85 on the money. That's about as quick as you'll see at any level of baseball in the world. I'll give him a 4 on his defense now with the ability to be league average at peak, his arm strength and release will help that play-up a bit as well. His swing is still a bit too long/late trigger to do damage against better velo and when behind in the counts -but if he can improve his selectivity, and become a solid mistake hitter, he can end up being an everyday catcher at his peak. If not, with his leadership and defense behind the dish, he'll still carve out a nice long career as a back-up.

Juniel Querecuto – the pudgy 27-year old 3B had 1 hit from each side of the plate today to raise his Spring average to .308. I can't remember seeing Juniel before but he did have 11 AB's with just 1 hit at the big league level for Tampa back in 2016. He's at the right age to put it all together. I really liked how he hits the ball like he's angry at it without getting too big. He's got solid pitch recognition on top of that. Willie Calhoun could learn a few things form him.

Top Hitter Performance: Delino DeShields and Christian Walker
Top Pitcher Performance: Jeff Springs and Chris Martin
Most Intriguing Prospect: Carson Kelly
Biggest Takeaway: Apparently Matt Szczur's name is pronounced "Ceaser" – I never knew this. Shoutout to the PA. I thought it was pronounced "Scherzer" before today. Oh, and if it isn't apparent going to 5 different levels of games in a 48 hours span, I love baseball. Thanks dad.

-Boomer